THE INFINITY LUXURIOUS IMPORTED MARBLE INDIA MASTER OF NATURAL STONE MATERIALS
FEEL IT TRUE ITALIAN MARBLE
Natural stones are considered a luxurious option when it comes to decoration of buildings. The earthy look, natural beauty and environment friendliness make natural stones the perfect material that can be used for adorning both indoor and outdoor spaces. Out of all the natural stones, marble is at the top of the game. It is the most famous natural stone that has been used extensively by architects, sculptors and designers throughout the history of human civilization.
This stone is renowned for its glimmering appearance and its ability to make any space look ten times more aesthetically pleasing.  As marble is considered the king of luxury, it also comes with a high price tag. Are you planning to get your home an Italian marble flooring? Here we are sharing all the options of Italian marble floors. And all the marbles are so gorgeous. Looking at all them together will help you choose your favorite one. Now, without any further delay, let's dive in.
Today, anyone who is looking out for flooring choices, at least once, checks out the Italian marble floors. And why not, Italian marbles are world-famous for their beauty and elegance. Have you noticed that wherever you go, to shop, work or for recreation – you get to see Italian stone flooring? From bungalows to apartment homes, hospitals, shopping malls, restaurants, resorts – the Italian Marble is everywhere – it is almost impossible to avoid it. Now, the top-notch finishing material is also a favorite pick for Indian home interiors.
Here are the best seven types of Italian marbles in India:

Statuario
Bottochino
Grey William
Royal Dyna
Rosso Verona
Carrara
Calacatta
Marble is found in quarries from where it is transported to factories in order to create products such as tiles, pavers, slabs and mosaics. Marble has a huge variety of lovely hues and tones with different veining patterns and intensities. Marble products available in markets are found in different finishes out of which polished is the most preferred one as it enhances the refractive property of marble.
Calacatta White Marble
Calacatta marble is considered as the most luxurious marble type due to its rarity. Calacatta stone is very often mistaken for Carrara marble due to the striking similarities in color and veining. However, there are some distinct differences that set the two marbles apart, for instance, Calacatta marble has dark thick veining patterns and is bright white in color. Carrara, on the other hand, is white in color and has intricate grey veining. Due to its uncommonness, Calacatta marble is placed at the top of the marble hierarchy.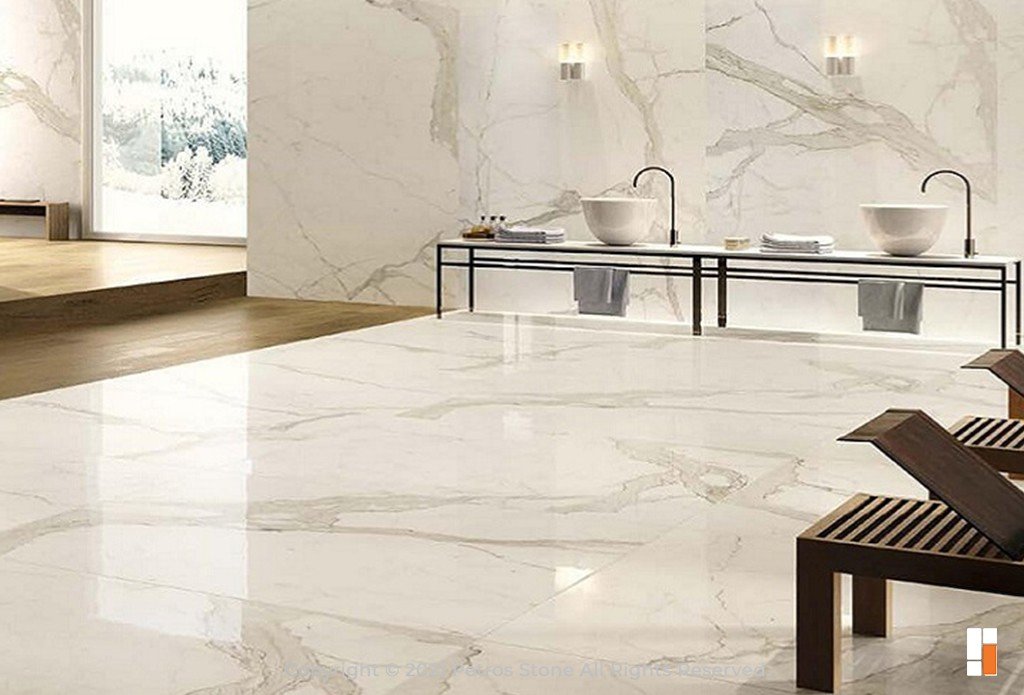 Emperador Marble
Emperador marble is a Spanish marble type found in light and dark brown colors. The shades of browns are accompanied by stark white dramatic and grey feathery irregular veining patterns. The dark shades of brown in this marble go perfectly with rooms having gold or brass furniture and accessories.
Crema Marfil Marble
Crema Marfil is another famous Spanish marble type known for its varying tones of beige with irregular patterns and varying veining intensity. It is commonly used in combination with dark coloured marble or other natural stones to subdue their intensity with its light color and uniform background. It is used for flooring, wall cladding and in marble mosaic products.
Carrara Marble
Carrara marble is the most common marble type which is why it is also the least expensive marble on this list. It has grayish white background with fine feathery grey veining. The veining pattern is generally linear and soft in appearance. Carrara marble is used by majority of homeowners as it is budget friendly and its whitish appearance can make the living space look livelier.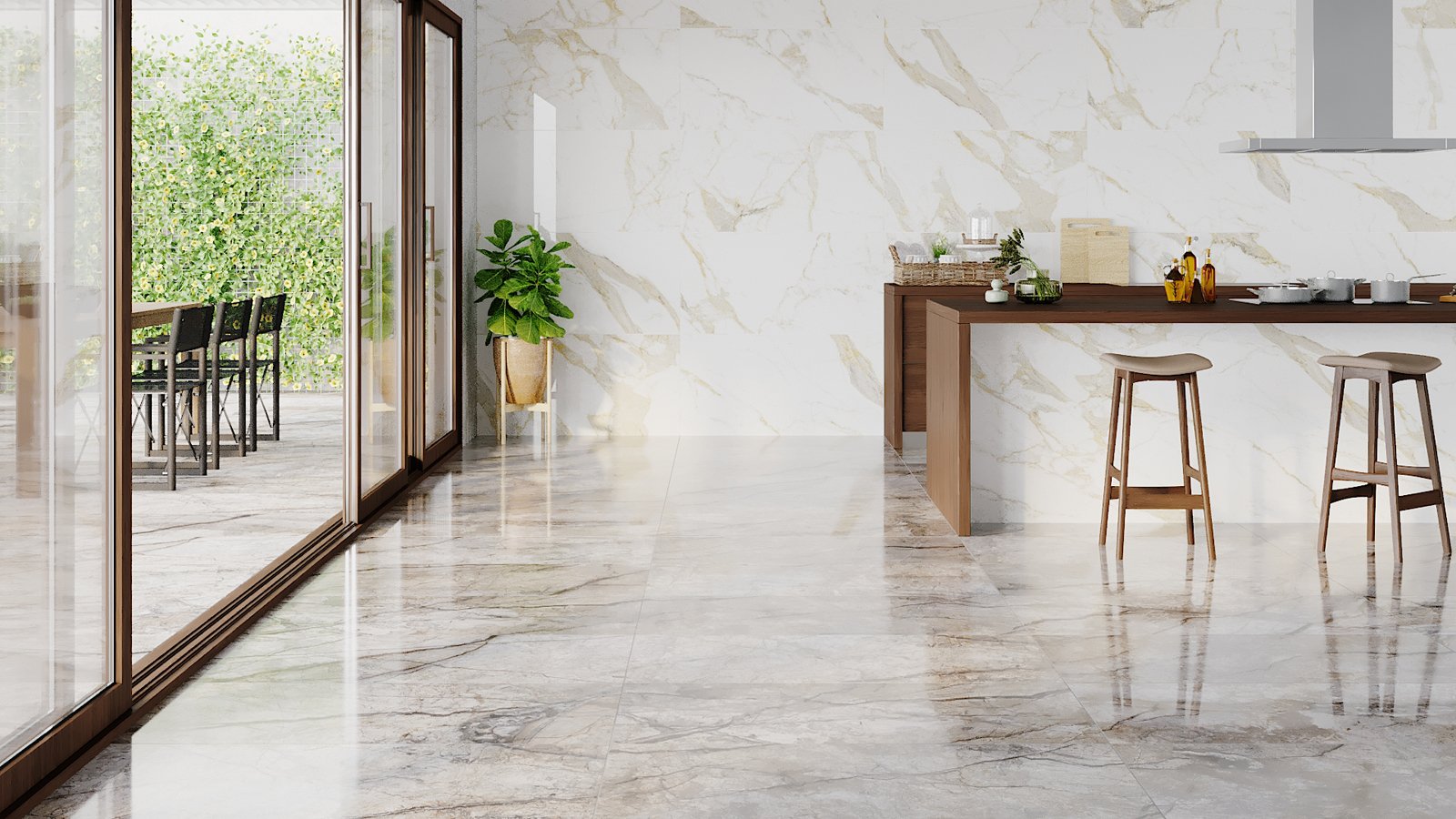 Reasons to choose Italian Marble
Amazing aesthetics
Magnificent, marvelous and pleasing – such words go well to describe the interiors finished with polished Italian stones. Be it on walls, floors, pillars or as decor piece – the classy beauty of this Marble can never fail you or your guests.
High decor value
You see, when you enter a room or space, the flooring of your home is the first thing that captures your attention. Also, the floor holds the most substantial impact on your interior look. If your floor is appealing, then the entire home looks sophisticated.
Rich heritage
Italian Marble is known worldwide for its rich heritage, the visually artistic nature with beautiful vein patterns and its high glossy look. Italian Marble looks luxurious and enhances the beauty of your home.
Italian marble is said to be a timeless classic in interior decor. It gives a touch of elegance and luxury to the space it is part of. Italian marbles have the power to transform a humble abode into a grand place. The status and appeal of this metamorphic rock are being endured for centuries. There are several ways in which you can use marble to decorate your home
How to enhance your interiors with Italian marble? 
Marble Counter Tops   
Although it has been an age-old practice, still nothing can beat the beauty of counter tops backed with Italian marbles. The INFINITY MARBLE By Bhandari Marble Group is a perfect match for counter tops and is admired for its graceful appearance and luxury finish.
Marble Stairs 
If you are looking for a way to glam up your staircase, look no further than Italian marbles. This imported marble gives shine to your stairs which grabs all the attention of your guests and leaves them stunned. You will get an exciting range of marbles available in different colors specially designed for the staircase.
Marble Table Top
Marble have evolved a long way from used for decorating floors to tabletops. Today, Italian marbles have made their presence in luxury hotels, offices, and even residential places as tabletops. If you are also thinking to revamp your office table or dining area, check out and embellish your space.
It is easy to incorporate Italian marbles into your interiors in many unique ways. If any of these ideas have fascinated you and you want to enhance the beauty of your space, check out our exclusive.
Contact us to know more about our Italian marble collection!
ADDED BY EXPERT TEAM OF BHANDARI MARBLE WORLD…9784593721