BEST QUALITY MARBLE GRANITE FOR LANDSCAPING, PORCH, LOBBY, BEDROOM, KITCHEN, BATHROOM, STAIRCASE AND WALLS
THE GREATNESS OF GRANITE
Granite is also available in any size or shape, and in varying sizes. Some colors and styles of granite are rarer than others, which makes them cost more. But every piece of granite has an elegance and quality that's undeniable.
Granite is naturally very strong and durable—still one of the most durable options for countertops. A type of igneous rock that's made from a mix of feldspar, quartz, micas, and other trace minerals, granite is resistant to heat and scratches. It's naturally strong and water-resistant with some antibacterial and stain-proof characteristics. When properly sealed (a task that homeowners will need to do to keep granite looking great), granite countertops can last a lifetime.
Ease of maintenance is another positive quality of granite. While it will need to be sealed, it can be easily cleaned with a damp cloth and mild soapy water. In fact, if you select granite, you'll want to avoid ammonia, bleach, or any cleaning products with solvents or caustics, as this will remove the sealant.
If you'd like to learn more about the types of granite available and the surface's many attributes, visit us at Bhandari Marble World.
Nine Ways to Protect Natural Stone Countertops
Everyone knows natural stone surfaces are beautiful. They add a sense of unique personality to a kitchen, bath, or any space in the home. But, unfortunately, not everyone knows how to care for them. Maintenance is key to having kitchen or bath countertops that last a lifetime. It's not hard, but there are a few "habits" you should get into to make sure your countertops stay beautiful.
Here are Marble & Granite, Top tips for caring for your natural stone countertops:
Have Marble & Granite, Inc. professionally clean your countertops! Our Service Department now offers professional cleaning and sealing of our natural stone countertops. We'll re-seal them using the best sealers on the market and finish them with a final polish.
Wipe up spills as quickly as possible. The longer they sit, the bigger the risk of permanent damage, even if the natural stone has been sealed. Some substances that can be particularly damaging include orange juice, lemonade, wine, tomato sauce, yogurt, salad dressing, perfume, and aftershave.
Don't use harsh disinfectants like bleach or ammonia. Never use vinegar to clean natural stone—it's highly acidic and will damage it. Also avoid alkaline cleaners, such as baking soda. Basically, unless the label specifically notes that it is safe for use on natural stone, do not use it. Glass cleaners should also be avoided.

Clean Natural Stone

Avoid abrasive cleaning products like Comet or Soft Scrub and never use any type of scouring pads on natural stone. They often contain silicon carbide and will scratch even the toughest stone.
Clean natural stone frequently with warm water and mild soap, like dishwashing liquid.
Seal your natural stone countertops regularly. And before sealing, make sure the natural stone has been cleaned before sealing. If not, sealers can trap dirt and debris, resulting in damage to the stone.
 Use placemats when eating on a natural stone counter or bar top, this way you're covered in case you drip or spill.

Granite Countertops

 Use trivets and pot holders under hot pots and pans. Again, it's just a good habit to help maintain the integrity of your countertop.
Always use coasters. Get into the habit so that when you're drinking acidic beverages such as alcohol or juice you're protected.
Marble Granite Use in Porch Area
Granite is the hardest and least porous of all the natural stones. Granite is an igneous rock which means it was formed from lava. Tell that to your guests next time they compliment you on your floor! Granite is rough cut from quarries into blocks or slabs of a specific length, width, and thickness and then finished for its final presentation.
Because granite is hard enough to resist abrasion, strong enough to bear significant weight, inert enough to resist weathering, and accepts a brilliant polish, its use dates as far back as ancient Egypt and is a prevalent building material today with many applications. It also holds up well in cold temperatures and adverse weather conditions, definitely suitable for the northeastern part of the United States where we are. Granite is available in beautiful color variations from white to black.
Finishes Available in Marble Granite
Finishing options for granite include polishing, honing, flaming, as well as a leather/brushed application. A polished finish is high-gloss and reflective. Once polished, an added benefit is that granite is more resistant to stains. A honed finish is similar to a polished finish but presents a matte appearance.
This finish is achieved simply by stopping at an earlier stage in the polishing process. A honed finish is recommended for flooring because of its ability to better hide foot traffic and the evidence of wear as well as reduce the risk of slipping. A flamed finish is achieved when extremely high temperatures (often supplied by a blowtorch) are introduced to the surface of the granite, causing the individual grains to burst and change color. The result is a rougher and more natural look.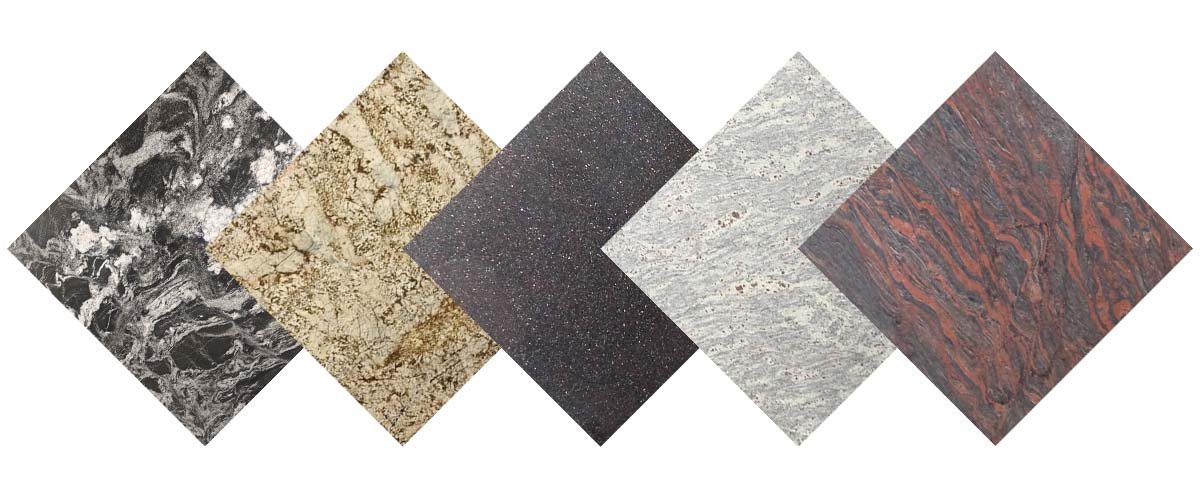 A leathered finish is similar to honed in that it presents a matte look without the reflective element of a polished finish. Unlike a honed finish, however, a leathered finish leaves pits and fissures on the surface giving a slightly bumpy texture. The latter two finishes mentioned are recommended for outdoor flooring as a rougher surface makes your granite flooring more slip-resistant. Additionally, a penetrating sealer is recommended to prevent water damage, caused by freezing and thawing.
All About Marble Hardness
Marble is the second hardest natural stone and slightly more porous than granite. Marble is a metamorphic rock which means it was once a caterpillar. Just kidding. A marble is a limestone that underwent high pressure and heat, and because of its formation process, marble is durable and resilient. It's still porous, so it needs to be sealed to prevent degradation. Marble is available in many color variations from white to black with beautiful veining.
Finishing options for marble, which are similar to granite, include rough and polished finishes as well. In the polished category are polished, honed, or a combination of the two. In the rough category are 'tumbled' and leather/brushed edge finishes. These finishes present a more rustic or worn look. As far as the tumbled finish, the process consists of placing the marble tiles into a rubber drum that also includes things like rocks, sand, and water. The stone surfaces are bumpy when completed. Again, for outdoor flooring, the tumbled or leather/brushed finish would be recommended to decrease the risk of slipping.
Marble Granite Use in Landscaping Area
Landscaping stones give a garden variety and texture while helping to organize and define aesthetic elements. Stones can also play a role in controlling erosion.
Whenever you add large stones, dig a space in which to lay them and level the yard as needed. This ensures the stones have a sturdy foundation.
Types of Stone
Common types of landscaping stone include granite, slate, limestone, sandstone, and bluestone. The marbled look of granite looks elegant when smooth and maintains a beautifully intricate texture when rough. Sandstone's lovely grainy look most commonly appears in beige, yellow, red, or gray tones. Limestone ranges from light brown to blue, always with a pale hue. In fact, limestone can even have a creamy white color that gives a project a classy look.
Natural Cuts of Stone
The cut of the stone you choose also affects the look of your landscaping installation. Common natural cuts of stone include Riverstone, rough stone, and fieldstone. Fieldstones are rough stones that have not been modified from their original shape. Rough stone includes any stone from a quarry before it is cut. The two are essentially alike. They and Riverstone's — rounded stones are worn by water — create a natural look. Additionally, small stones called thinkers, which have a rough, irregular shape, are often used to fill gaps between larger stones in building projects.
Paving Cuts of Stone
Paving stones form stepping stones, stairways, pathways, patios, and other surfaces. Common examples include flagstone, semi-dressed stone, cobblestone, and Belgian blocks. Flagstone is a large flat stone with a 1- or 2-inch thickness. It can have smoothly cut, rough, or irregular edges, which may fit together like a puzzle. Semi-dressed stone has been smoothly cut on one or more sides but maintains a rough face. Cobblestones are small round stones used in paving. Belgian blocks are paving stones cut to roughly the size of large bricks.
ADDED BY EXPERT AND EXPORT TEAM OF MARBLE GRANITE & NATURAL STONE