Alaska Granite in kishangarh
Welcome To Bhandari Marble World, The Best And Top Alaska Granite Manufacturer, Supplier, Wholesaler, And Exporter In Kishangarh, Rajasthan, India. With Our Commitment To Quality And Excellence, We Have Established Ourselves As A Trusted Name In The Industry. Our State-of-the-art Manufacturing Facilities, Extensive Inventory, And Dedicated Team Allow Us To Deliver Alaska Granite Of Unmatched Beauty And Durability. Whether You're An Architect, Interior Designer, Contractor, Or Homeowner, We Cater To All Your Alaska Granite Needs. Choose Bhandari Marble World For The Finest Quality Alaska Granite That Adds Sophistication And Elegance To Your Projects.
Alaska Granite Types And Colors-
Welcome to our comprehensive guide on Alaska Granite types and colors. Alaska Granite is a stunning natural stone known for its unique patterns, durability, and versatility. In this guide, we will explore the different types and colors of Alaska Granite to help you make an informed decision for your next project.
Red Alaska Granite: Red Alaska Granite is a bold and vibrant choice that adds warmth and character to any space. It features a rich red hue with intricate patterns and veining. This type of Alaska Granite creates a striking visual impact, making it an ideal choice for countertops, accent walls, and flooring in both residential and commercial settings.
Pink Alaska Granite: Pink Alaska Granite is a delicate and charming option that brings a soft and feminine touch to your space. Its light pink color with subtle patterns and specks creates a soothing and elegant atmosphere. Pink Alaska Granite is often used in bathroom vanities, tabletops, and decorative accents, adding a touch of sophistication.
White Alaska Granite: White Alaska Granite is a classic and timeless choice that exudes elegance and purity. Its white background with subtle grey veining and specks complements a wide range of design styles. White Alaska Granite is popularly used for kitchen countertops, backsplashes, and flooring, creating a clean and luxurious aesthetic.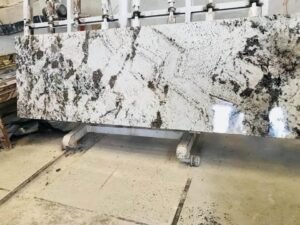 Grey Alaska Granite: Grey Alaska Granite offers a modern and contemporary look with its cool and sophisticated tones. It features varying shades of grey, ranging from light to dark, with intricate patterns and textures. Grey Alaska Granite is a versatile choice that works well in both traditional and modern spaces. It is often used for kitchen islands, fireplace surrounds, and wall cladding, adding depth and character.
Gold Alaska Granite: Gold Alaska Granite is a luxurious and opulent option that brings a sense of grandeur to your space. Its golden-yellow background with dark veins and specks creates a dramatic and regal appearance. Gold Alaska Granite is perfect for creating a statement piece, such as a focal point wall or a grand staircase.
At Bhandari Marble Group, we are proud to offer a wide range of Alaska Granite types and colors to cater to diverse design preferences. Our Alaska Granite collection is sourced from reputable quarries and manufactured with precision and expertise. We ensure that every slab of Alaska Granite meets the highest standards of quality and aesthetics.
Alaska Granite Price-


Alaska Granite Starts From 150rs Per Sqft And Above.
Alaska Granite Finishes
• Honed Finish
• Lapatro Finish
• Polish Finish
• Bush Hammered Finish
• Tumbled Finish
Alaska Granite Uses-
• Flooring
• Staircase
• Countertops
• Tabletops
• Decoration
• Handicrafts
• Wall
Alaska Granite Comes In Gangsaw-size Slabs, Cutter-size Slabs, And In Tiles Form Also. We Can Customize The Size And Thickness Of Alaska Granite As Per The Clients' Requirements Also. We Are Doing Most Quality Of Alaska In Export Also. Explore our showroom or browse our website to witness the breathtaking beauty of our Alaska Granite collection. We offer a wide range of customizations and finishes to ensure that your Alaska Granite perfectly suits your project requirements. Choose Bhandari Marble Group for top-notch Alaska Granite that transforms your space into a work of art.