GREEN MARBLE ALL ABOUT GREEN MARBLE SLABS TILES PAVERS COBBLES AND COUNTER TOPS IN INDIA EVERGREEN GREEN MARBLE OF INDIA GREEN MARBLE RANGE AND COLORS DARK AND LIGHT GREEN MARBLE
GREEN MARBLE
Green marbles are a diverse category of natural stone that combines green backgrounds or veins with other colors, including blacks, reds, and greys. Green marble's color is due to the presence of specific minerals when the metamorphic marble first formed.
ALL ABOUT GREEN MARBLE
Green marble is a versatile stone that can be used in a variety of different ways. It has been used for centuries to create everything from bathroom counters, to sculptures and even buildings. Green marble is also frequently found on kitchen countertops because it's easy to clean and maintain. The color green was chosen as the name because the material originally comes from Italy where there are many green hillsides dotted with wildflowers.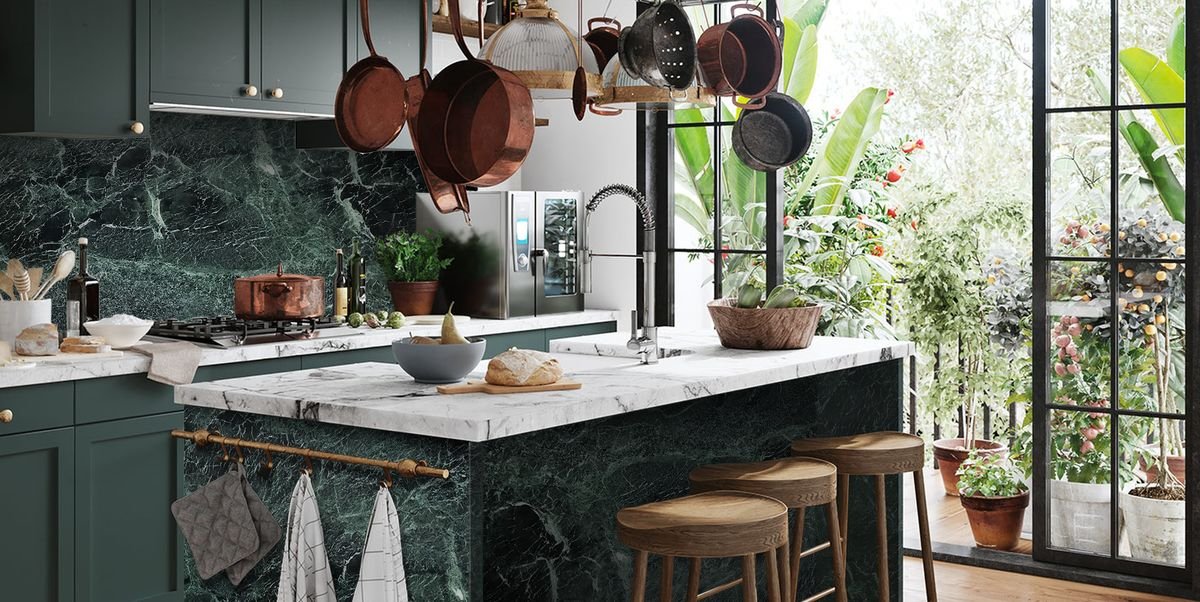 FORMS OF GREEN MARBLE
GREEN MARBLE SLABS
GREEN MARBLE TILES
GREEN MARBLE PAVERS
GREEN MARBLE COBBLES
GREEN MARBLE COUNTER TOPS
TYPES OF GREEN MARBLE
Homogeneous green marble types like light green, emerald green, and Jade green are giving plain impacts whereas forest green, dark green, and rainforest green types are for contrasting effects with patterns. To opt for green marble is to surround oneself with a world of sensations. The colour green is linked to nature, bringing at the same time serenity, harmony and elegance to ambiances.
Green marble presents in different shades. Intense green combined with a white marble conveys freshness to its setting, even managing to soften it. Whereas with dark green combined with creams or grey, we achieve more elegant ambiances.
Verde Indio Marble
Verde Indio Marble is mainly sourced from mines in India. This marble is sometimes known by different commercial names, such as Verde Guatemala or Oasis Green.
The aesthetics of Verde Indio vary, and we can find marble with few streaks or with very pronounced white streaks. There also exist varieties with intermingled black pigmentation, all of which are very beautiful and original.
Dark Green Marble
Dark green marble is a marble that is crystallized and is naturally the color green. it is an excellent choice for someone who likes dark colors and it looks very elegant too. By personal choice, it looks good in dark wood houses. Dark green marble will never disappoint you.
Rainforest Green Marble
Rain Forest Green marble has the same characteristics as Rain Forest Brown, differing in color. In this case, Rain Forest Green has a green hue and the other is brown.
Spider Green Marble
Spider Green Marble is a popular choice for flooring and wall cladding purposes. … This very Special Indian Green Marble is Known for its polished finish and durability. The minimum lifeline of this stone is 15 years. This high-quality product offered by us has garnered immense appreciation in the market with time.
Guatemala Green Marble
Guatemala Green Marble is one of the most sought-after types of green marble. With its soft and beautiful tone, Verde Guatemala has been increasing in popularity over recent years. This type works well with both traditional and modern styles. This type of green marble is imported from Guatemala and has a beautiful, glossy finish that resists scratching and fading.
USES OF GREEN MARBLE
We are all used to white marble taking over our kitchens (countertops), bathrooms (sink and vanity area) and even the living rooms (murals, tabletops, and so on). However, have you ever considered experimenting with the other coloured types of marble? For a more memorable looking interior, consider green marble stone. Here are spaces that were enhanced with this magical marble.
BATHROOM
Green marble has a decorative look and its wide variation in veining and colouring is considered its best trait. In this small bathroom, the white bathtub looks striking against the green marble tiles. Green marble stone is long-lasting and brings instant style into a space. Here, the emerald-green hue on the countertop looks elegant, especially when offset by the brown cabinets and door.
KITCHEN TOP
Not only does green marble look like a striking addition to this kitchen, it also adds a functional value to the space. The material is great for hot areas – so no matter how much cooking, heating and reheating happens in the cook room, making the space sultry, the marble's surface stays cool. The stone is also strong and heat-resistant.
FLOORING
Green marble stone is versatile and has a wide number of uses. Since it is a durable, long-lasting material, it can be used for flooring, counters and even built-in seating. In this bathroom, the cream space gets a lift with the sprinkling of green all around.
TABLE TOP
Green marble has an impressive artistic quality to it, so it looks good and eye-catching as kitchen countertop, island or even dining table (left). Here (above) the green marble countertops are juxtaposed with wooden shelves to create an impressive-looking kitchen. Notice how the veining of the marble complements the textured lines of the wood.
CLADDING
Marble cladding can be used outside the house to make your entryway stand out. It's available in many different grades so you can choose what's right for your budget.
WALLS
You can use green marble on your walls to achieve a high-end, luxurious look. It's also a great way to add some color and personality to a room that might be feeling a little bland.
This post will give you an overview of some of the most popular types of green marble so you can make your decision about what type would work best for your project!
"MARBLE IS FOR EVERYONE, EVERY TYPE, EVERY BUDGET, EVERY COLOUR, EVERY FINISH, EVERY SIZE, EVERY THICKNESS, EVERY COUNTRIES MARBLE ONLY AT BHANDARI MARBLE GROUP INDIA"
By D.C. BHANDARI PUBLISHED ON FEBRUARY 13, 2022
WORLD'S BEST & INDIA'S TOP MARBLE GRANITE & NATURAL STONE COMPANY
For More: +91-98290-40013/97845-93721