WHAT IS MARBLE, LIMESTONE, SLATE, GRANITE, NATURAL STONE AND BUILDING STONE TYPES BHANDARI MARBLE GROUP INDIA
MARBLE
Marble is a common product for making sculpture and buildings. Dome of the Rock, Israel and Taj Mahal, Agra construct with marble. It is perfect for Mosaics, bathroom, fireplaces, stairs, countertops, entryways.
Types of Marble
INDIAN MARBLE
Indian marble is the most popular ornamental and decorative stone because of its pleasing colors, attractive patterns, and designs.
Uses: High-end floors of living, foyer, staircases, tabletops. Not preferred in kitchens as it is very soft and can easily stain. Indian marble mostly used in bathroom walls and floors, kitchen countertops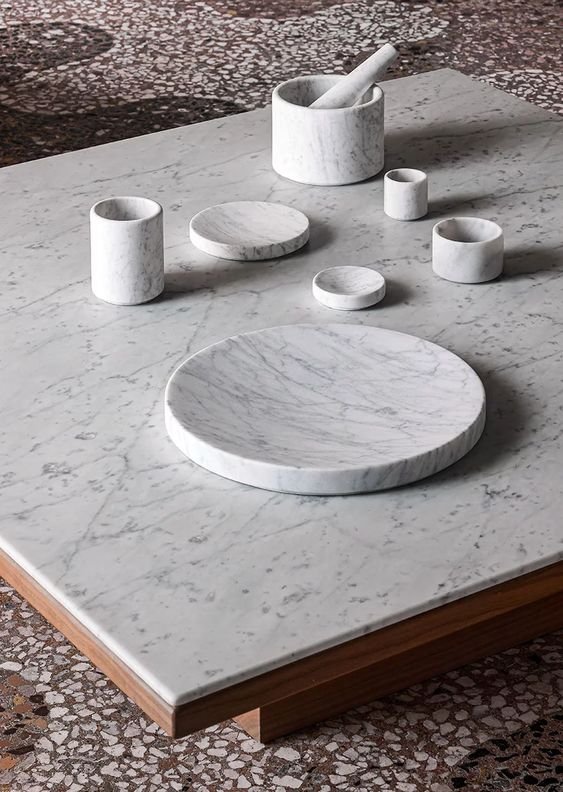 ITALIAN MARBLE
Italian marble is considered to be superior by many due to its purity, durability, and beautiful white color. Another reason that Italian marble is thought to be superior comes simply from the rich stone working heritage of Italy. They were the first to streamline and perfect quarrying methods still used today.
Uses: Italian marble is widely appreciated for its high lustre and the ability to impart visual appeal to the area where it is used. It is quarried in Italy and is now easily available in India as well.
LIMESTONE
Limestone is a common type of carbonate sedimentary rock. It is composed mostly of the mineral's calcite and aragonite, which are different crystal forms of calcium carbonate.
Uses: It is used in steel manufacturing, mining, paper production, water treatment and purification, and plastic production. Lime also has major applications in the manufacture of glass and in agriculture
SLATE
Slate is a fine-grained, foliated, homogeneous metamorphic rock derived from an original shale-type sedimentary rock composed of clay or volcanic ash through low-grade regional metamorphism. It is the finest grained foliated metamorphic rock. It may mean a single roofing tile made of slate, or a writing slate.
Uses: Going by history, the slate stone has been used as a home roofing material since 1300 AD. Its use was profuse around the world, especially in the US and Europe, And today, the slate stone is one of the best-selling natural stone for flooring, roofing, and wall cladding.
GRANITE
Granite forms through the crystallization of magma underneath the Earth's crust. Quartz, plagioclase feldspar and alkali feldspar all together helps in composing of a true granite. This light-colored igneous rock is granular and phaneritic in texture whose color may vary depending on its mineralogy.
Uses: It is used to make countertops, floor tiles, paving stone, curbing, stair treads, building veneer, and cemetery monuments. Granite is used all around us – especially in building the infrastructure of modern-day cities.
NATURAL STONE
Limestone: Skeletal fragments of marine organisms like coral, forms, and mollusks lead to the formation of limestone. Comprises mainly of calcium carbonate (CaCO3) and form due to the breakdown of rocks and shells. The white town of Landon constructs with limestone.
Uses: People adopt it to accent walls, pool surroundings, fountain, stairways, windows, kitchen countertop, façade, bathroom, sidewalks, driveways, patios.
Sandstone: Sandstone consists of mineral particles (quartz and feldspar) and grains of rock fragments which are the most resistant minerals to weathering processes. Red Fort & Qutub Minar in India, the part of UNESCO world heritage sites are the proof of the beauty and durability of sandstone.
Uses: It is perfect for walkways, flooring, and facade. It can as a veneer for the pillars or walls cladding also.
Travertine: Pitted holes and troughs on the surface of the natural stone is the recognition of travertine. Its formation takes place due to the precipitation of calcium carbonate when deposit by mineral springs, especially where there is a waterfall or hot springs.
Uses: It is commonly used for façades, wall cladding, and flooring. Indoor projects include floors, showers, kitchens, and in decorating walls and ceilings. Outdoors, travertine is used for driveways, pool decks, patio areas, walkways, and facades.
BUILDING STONE
A building stone may be defined as a sound rock that can be safely used in some situation in the construction as a massive dressed or undressed unit. Stone is an essential and more permanent building material in construction than other natural building materials.
Types of Building Stone
Igneous Rocks: Basalt, Trap, Andesite, Rhyolite, Diorite, Granite.
Sedimentary Rocks: Lime stones, Dolomite and Sandstones.
Metamorphic Rocks: Quartzite, Marble, Slate
"MARBLE IS FOR EVERYONE, EVERY TYPE, EVERY BUDGET, EVERY COLOUR, EVERY FINISH, EVERY SIZE, EVERY THICKNESS, EVERY COUNTRIES MARBLE ONLY AT BHANDARI MARBLE GROUP INDIA"
By D.C. BHANDARI PUBLISHED ON FEBRUARY 10, 2022
WORLD'S BEST & INDIA'S TOP MARBLE GRANITE & NATURAL STONE COMPANY
For More: +91-98290-40013/97845-93721