CELIBATE'S WORLDS INTERIOR DAY WITH THE SPECIAL WHITE STATUARIO MARBLE STONE
#BHANDARIMARBLEWORLD
May 27th is celebrated the world over as the international day of design. This year's theme, "Interior Design for Generations", explores the concept of time and its impact on the philosophies and visions of the various generations. We at Bhandari Marble World celebrating this day with our exclusive product "WHITE STATUARIO" which is the trend of today's generation. As we check and analyzed the market requirement for marble, we found that Statuario is the most expensive and classic material nowadays and interior designers found it more luxurious stone.
At Bhandari Marble World we regularly importing exclusive blocks from Italy and other countries after that we analyzed them and process them with the deep knowledge of excellent workers. Today we will show you the whole process from Statuario marble block purchasing to process in slabs to our stockyard.
EXTRACTION OF MARBLE
Mining of Statuario Marble
Our orders start with selecting the perfect block, either from our partner's stockyards or directly from the quarry. Statuario marble is the tone of nature that come in nature's shape and color for thousands of years. This is unique and we can say rare material, each and every time it comes in different color shade and patterns. Mostly composed of calcium carbonate, marble has been and continues to be used as a construction and decorative material, due to its beauty and resistance.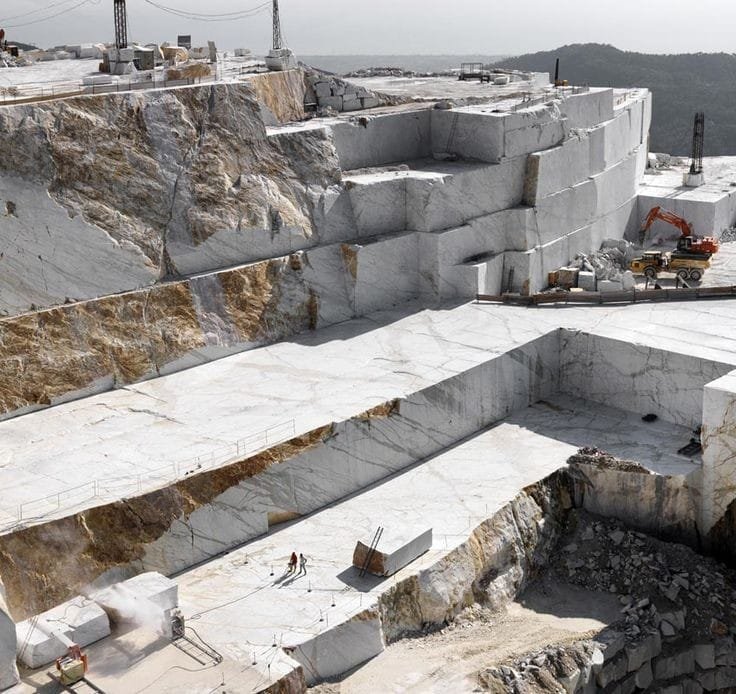 How to Classified Blocks
Once each block is extracted from the quarry, these are classified based on certain quality criteria, such as:
Block size
Tones
A number of streaks: the lower the number of streaks, the higher quality, and better classification.
Cleanliness: clean materials are those with no stains
Cracks
Arrival and Unloading of Marble Blocks
Our team of qualified members who knows about the marble pros and cons also have the knowledge of the quality of marble blocks what size will be perfect as per market how much it should be crack free and clean what kind of texture clients loved they checked each and everything and as per they went to the market of Italy and other countries and then select the particular blocks and finalized. They marked the blocks and process them to ship them our way. Company-paid the particular company and then we get the selected blocks at our factory. Once the blocks have been extracted from the quarry, these are transported by HGV lorries to the manufacturers for processing. At each production center, the blocks are unloaded and classified in the block's yard prior to being sawed. Due to their large dimensions and heavyweight, the blocks need to be moved and handled with cranes and specific machines, both during loading/ unloading and during processing.
Processing Marble Blocks in Slabs
Now, the third step is processing purchased blocks into slabs. Depending on the dimensions of marble blocks they may be cut as per different methods. The most important of all this process is that how we get the best quality and quantity with less waste. Blocks also cut as per clientele requirement in we check the size, thickness, quality, and other things will be measured. Most, probably the blocks cut into slabs but sometimes as per special requirement we cut them in tiles also, in the size of that tile will be like:
30*30
30*60
60*60
60*90
90*90 and so on.
With the most careful attention and criteria, we decide whether to consolidate our blocks with a patented vacuum resin, penetrating all the natural imperfections that might eventually create problems.
Processing Polishing and Strengthen in Marble Slabs
Slabs are taken to the production line for further processing. As a first step, the material is strengthened by attaching a mesh for further resistance. Following, the marble is subject to an abrasion process in order to change its appearance and to produce different finishes:
Polishing: in this case, we enhance the marble's shine and color by leaving a smooth, glossy surface. Polishing time will vary depending on the block dimensions. It can usually take between 45 and 60 minutes.
Honing: consists of achieving a matt, shine-free surface. Its main difference with raw marble is that this finish removes all cutting marks.
Ageing: this finish provides natural stonework with a rugged, shine-free aspect resembling natural wear and tear.
Bush hammering: produces a coarser finish providing additional grip, which makes it ideal for outdoor areas.
Sanding: This finish achieves a much less coarse surface than the bush hammering process.
Split face: this is the most rustic finish, which can achieve a very rugged surface.
Slabs at Stock Yard of Bhandari Marble World
Once the corresponding finish has been applied, the slabs will be ready for display or will go directly to packaging ready for shipment. If the marble slabs are being shipped abroad, a series of wooden bundles will be prepared in order to introduce them into containers. While if your slabs are being shipped within Spain, these are transported using iron a frame to hold them in place. Tiles, on the other hand, are packed in wooden boxes for transportation.
STATUARIO MARBLE COLLECTION
Statuario Marble
Statuario is a classic and famous Italian marble with a pure white background and elegant gray veins that run across the stone. This is a perfect option when a whiter visual want to be achieved. Statuario is a timeless choice that can enhance any space and design style. From the Washington Monument to the Taj Mahal, marble has been used to create some of architecture and design's most impressive structures. Formed from limestone that was subjected to pressure and heat, marble's characteristic color swirls are what adds to its striking appearance. Add luxury and sophistication with a variety of earthy, neutral colors from this impressive collection.
The Statuario White marble of the Carrara region is one of the most precious marbles in the world. Very few materials, in fact, can compete with its transparent sheen and incredibly compact structure. The main types of this material are the White Statuario Venatino Marble, which has veins in shades of grey of various sizes, and the White Statuario Extra Marble.
Statuario Marble has always been the first preference when it comes to flooring. People prefer it for its elegant look as well as its strength and durability as it lasts longer than other kinds of flooring. However, installing natural marble stone has its own challenges. It is very hard to install and takes a lot of time, they need to be regularly maintained which means you have to keep spending money on it even after installation, and cleaning them could be a task in itself as they are not immune to spillage.
Call +91-9784593721 to buy the best Italian marble, granite, and onyx near you, right here in Kishangarh Rajasthan, India.