GOLDEN MARBLE GRANITE FOR HOUSE ALL AROUND THE WORLD THAT SHINE IN GOLD
If you are looking for Classic Elegance in your stone requirements, Bhandari Marble World is here. Our experience and commitment to quality and service will make your project a success. We specialize in customizing Marble, Granite, Sandstone, Quartzite, Onyx, Travertine from all over the world. We have one of the biggest processing units in Rajasthan and we process all types of Indian as well as Italian Marble, Granite, and Sandstones in any type of finishes. We have gained experience in the marble industry by exporting to all the major countries of the world. Marble is a non-foliated metamorphic rock that forms when limestone is subjected to heat and pressure of metamorphism. Under the conditions of metamorphism, the calcite (CaCO3) in the limestone recrystallizes to form a rock that is a mass of interlocking calcite crystals.
COLLECTION OF GOLDEN MARBLE
Calacatta Gold
Golden Calacatta Marble is a premium quality stone also known as Calacatta Gold Marble. It is an imported marble having the origin Apuan Mountains near Carrara, Italy. Calacatta marble is a distinctive Italian marble of whites and gold. It has a very graceful appearance for the interior of the house. There are endless looks and styles that you can achieve with a Calacatta marble. It is one of the most prestigious stones in the world. Calacatta Gold marble has been used by Architects and Designer for many projects. Calacatta marble is a distinctive Italian marble of whites and gold. It has a very graceful appearance for the interior of the house. It is popular for many constructions as well as decoration applications like flooring, wall cladding, and other decorative purposes.
Golden Portoro
Golden Portoro Marble is basically a dark shade Marble with a brown texture on it. This stone consists of an intense and bright black color. Golden Portoro Marble is the premium quality of Italian Marble. Golden Portoro is a unique material. Due to its characteristic brown pattern on a black background. This marble is one of the most popular Italian stones. Durability and long-term life are its main features. From rich cabernet tones seen in our Golden Calacatta Marble to dramatic gold. Taupes featured in our Calacatta marble, there are endless looks and styles that you can achieve with a Calacatta marble. The whiter the material, the more expensive the slabs. The more "uniform" the veining in the stone, the pricier it gets. Installing Calacatta Marble can end up being one of the best decisions that you ever make for your home.
Black Gold
Black Gold Marble is one of the common Marbles among all black marbles. Iran has many rich quarries in the country. Black Gold Marble quarries are scattered widely throughout the country but the value of this type of marble depends on the black background plus the distribution of the golden and white colors on the stone. Black & Gold marble incorporates black, brown, and gold for statement houses. Ideal for bathrooms, floors, and walls, its intense golden veins set against the night-black result in visual magic. Honed and polished, rich and unique; it's where natural stone and chic are ultimate companions.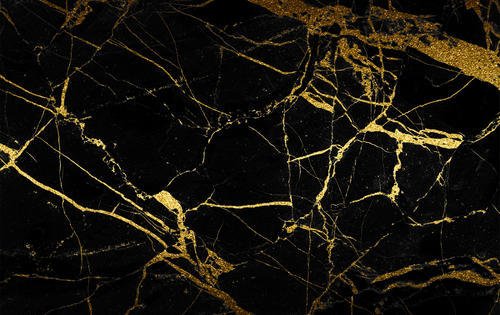 Giallo Siena
Giallo Siena is one of the most beautiful, prestigious, and detailed marbles that is mined in Italy. It's characterized by a yellow background color that is dark and heterogeneous due to the presence of grains with shades ranging from ivory white to light yellow to reddish yellow ocher and very intense. Sienna Marble can vary in color from pale cream to strong yellow or even a deep orangey-brown. Traditionally it was used almost exclusively for castles and palaces, the Lodges of the Pope, etc. Today Giallo Siena is also used in various other ambiances where the golden color gives a touch of luxury and exclusivity, e. g. in hotel suites and bathrooms, for floor patterns and borders as well as columns and fireplaces.
Golden Spider
Golden Spider Marble is a white base with golden yellow streaks quarried from Greece. This stone is especially good for the Exterior & Interior. This is the finest and superior quality of Imported Marble. Golden Spider is a white marble with gold veins that gives it a bright color. Golden Spider is a white base with golden yellow streaks. It is present in honed, polished sawn cut, rock-faced & tumbled. It can be used in exterior interior walls, applications, countertops, fountains, and other design projects.
Jaisalmer Gold
Jaisalmer Yellow Marble is loved by homeowners and architects for its natural yellow-orange texture. It comes up in stunning shades making it a classy choice for home and office. Jaisalmer Yellow Marble is quarried from mines located in Jaisalmer, Rajasthan, it is the reason it is also called Desert Gold Marble. Jaisalmer stone is very hard, durable, and long-lasting, it remains good in any weather conditions, it is a better choice for flooring, paving and wall cladding, it is Indian sandstone.
Ita Gold
We are one of the renowned Ita Gold Marble Suppliers, Manufacturers, and Exporters in India. Ita Gold Marble is an outstanding golden base marble with brown or dark color veins on it. It gives a touch of wooden furniture. Due to its color and texture, it is a great option for flooring, countertops & tabletops, and furniture. This durable & beautiful Indian Yellow Marble is okay for usage indoors & outdoors in climates with freezing temperatures and for all Commercial & Residential projects especially for Interior & exterior Flooring, Floor & Wall, Backsplashes, Countertops, Fireplaces.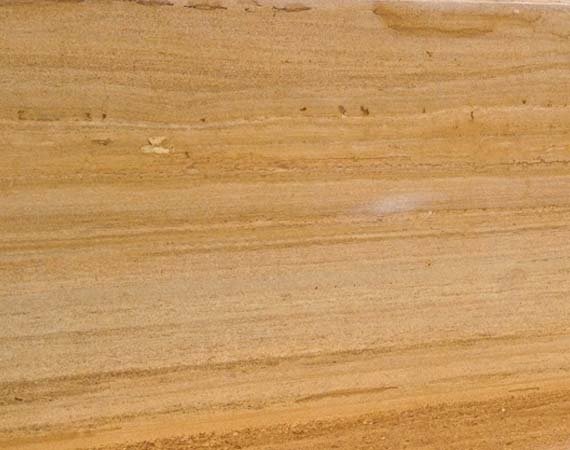 Teak Gold
Teak Sandstone is a smooth light-yellow veined sandstone and is known for its unique veins and campaign. This sandstone is also named Teakwood, Gold Wave, Khatu Teak sandstone and is used almost everywhere! Teakwood sandstone is made up of quartz and some other materials but is available only on the sawn finish. The classic sandstone has a honed surface such that the surface is not slippery. Hence, the popularity of this stone is more for poolside areas. It can also be used in making Wall Cladding and Tabletops, Vanity tops, Flooring, basins, Steps, Risers, and Fountains.
Golden Brown Rainforest
Rain Forest Gold is a golden brown base with dark brown and black veins, spots which show the figure of forest and trees on its exotic marble quarried in India. Rainforest Gold Marble is a stunning gold base marble with a roots-like structure of brown color on it. Rainforest marble in a green, brown, and golden hue is widely used to create kitchen countertops, vanity tops, floors, steps, and risers. rainforest golden marble slabs, tiles, and counters, at a competitive price, from the leading. Rainforest Marble gives classy look to your interior and exterior design space It is a perfect choice for your needs and demands.
COLLECTION OF GRANITE IN GOLDEN COLOR
Our premium granite selection offers over 100 granite colors. We have the perfect granite countertop for your project whether your countertop needs are for your kitchen, bathroom, or another surface. All of our granite countertop slabs are in stock and ready for prompt delivery.
Presenting our golden color granite collection
Savana Gold Granite
This beautiful Brazilian granite is recommended for both residential and commercial properties and can be used indoors as well as outdoors. Create gorgeous granite countertops, kitchen islands, floors, accent walls, backsplashes, and shower surrounds with this earthy and rich natural slab granite.
Alaska Gold Granite
Alaska Gold Granite features the golden variety of Alaska white glamorous stone. Alaska Gold is the unique combination of gold, brown and black color, which defines its perfect appearance. This is one of the most selling premium granite from India. There are various sizes like cutter size slabs, big size slabs, cut to size tiles, etc. We make Raw Blocks, Slabs, Table Tops, Kitchen Tops, Vanity Tops, Steps & Risers, Skirting, Tiles, cut to sizes, etc. are regular in this granite profile.