Top 10 Most Popular Marble From Colours
Your home is a place where you get maximum comfort. So, when you start with your home interiors, plan them in a manner comfortable for you. Do not overload yourself with everything in one go, but take one step at a time. At Bhandari Marble World we have approximately 500 colors and varieties to suit every decor taste and interior style. You'll come across a wide selection of marble colors that can be cut to any desired shape and any size. These include classic and new styles, with some stone types that even look exactly like Italian marble.
This natural stone outshines marble when it comes to durability. It's hardy, solid, and less porous. Neutral tones don't date as quickly and can be easily updated with bright decor elements, bright backsplashes, or a slick coat of new wall paint. White, cream, or even light blue and gray granite countertops offer an understated yet classic look that pairs well with any color of marble.
White marble is a beautiful natural stone that is often used in home remodeling projects. The stone has also been used to build some of the world's most famous statues and structures. Homeowners have long adored white marble for its pure beauty and the sophisticated feel that the stone gives off. This stone looks great as a white marble countertop, backsplash, vanity top, or other home structure. If you are looking for a stone that is gorgeous and holds classic appeal, white marble is an excellent choice.
QUALITY WITH PRICING
Bhandari Marble World only imports premium quality Marble from the most well-known quarries overall world. To keep our own costs low, we made good and positive working relationships with our suppliers and consistently provide the best services to our customers. Maintaining our own stone yards allows us to work faster and deliver products with a fast turnaround, further reducing labor costs.
WE PROVIDE SERVICE WITH 100% SATISFACTION
Bhandari Marble World always work for their customer and always provide 100% satisfaction to their clientele. We have a team well educate and experience salespersons who always answer happily to our customers, provide helpful suggestions, and guide them through every step of the process. Whether you already have something in mind or just want to browse our selection, they will assist you in finding the stone you're looking for.
WHERE WE ARE BASED?
BHANDARI MARBLE WORLD Based in Kishangarh Rajasthan, India from 1969. We provide all kinds of Natural Stones, Marble, Granite, Sandstone, Limestone, and Marble Handicrafts also. We take orders online also as per client requirements and provide our best services to them.
Now in this blog, we will talk about the Top 10 Popular Marble which is in trend right now and we assured you that you will find the best solution to all your questions after checking our Top 10 Marble collection.
Statuario White Marble
Calacatta White Marble
Carrara White Marble
Light Emperador Marble
Dark Emperador Marble
Amazonite Marble
Crema Marfil Marble
Red Levante Marble
Armani Bronze Marble
NSL Marble
STATUARIO WHITE MARBLE
Statuario is the most precious marble variety found in Italy. It has distinctive veining that can range from gold to gray. The price range starting with 350rs/sq ft and above as per whiteness and veins. The reality is that Italian Statuario marble isn't expensive just because it is a luxury item; it is actually a luxury item because of its premium quality. Statuario marble is a more exclusive stone with distinct gray and gold veining throughout and a striking, bold pattern.
This marble is considered to be one of the major white marble. Statuario marble contains heavy, bold gray veining mixed with thinner patterns. Typical Statuario marble can be identified through a stone surface which is significant because of one bold dark grey vein accompanied by thinner ones.
CALACATTA WHITE MARBLE
It presents a peculiar chromatism, in which an off-white background with very fine light grey streaks is punctuated by tiny amber and golden notes. Calacatta marble starting with range 450rs/sq ft & above as per quality and color. Calacatta Marble is one such marble – a gorgeous, high-end natural stone desirable for its distinctive look and precious rarity for a range of applications. This marble is known for being the most expensive variety, typically sold for about 450rs/sq ft. It has a noticeable contrast between a white base and dark gray veins. It's also known for its brown and gold undertones.
Calacatta marble is more porous than other types of marble and as a result, more vulnerable to damage. The most common type of damage to Calacatta marble is Staining. Calacatta marble is mostly white and prone to stains if not properly cared for.
CARRARA WHITE MARBLE
Carrara marble is a type of white or blue-grey marble popular for use in sculpture and building decor. Marble is not the hardest of these stones, however, making it porous and therefore susceptible to staining. Carrara marble requires some maintenance to keep it pristine, though many prefer the gradually aged surface with etches and stains that blend into the grey veins over time.
It usually starts with price 450rs/sqft and above. Carrara marble is often classified as much softer looking than Calacatta because of its subtle light gray veining that can sometimes hue toward blue. Clean the marble with warm water and detergent; don't use soap, as it is fact-based and can cause the stone to darken. You can use a cleaner specifically meant for marble or store-bought detergent. Rinse the stone with clean water and then thoroughly dry it with a soft cloth.
LIGHT EMPERADOR MARBLE
Light Emperador is a kind of cream brown marble having a polished and honed surface finish. This harmonious whole is what makes this material a unique and highly versatile marble in all types of settings. Price starts with 250rs/sqft to 450rs/sqft. Light Emperador marble generally used for flooring but nowadays architects used it for making the interior classier and more luxurious. Light Emperador marble is also known as Super Light Emperador.
It is relatively easy to combine Emperador Light with any other type of material of a different color or nature. This quality is due to a soft tone, which is also able to transmit warmth and comfort to the ambiance. Architects and interior designers do not hesitate to make use of this natural stone when creating welcoming ambiances of great beauty, especially when searching for ethnic or colonial surroundings.
DARK EMPERADOR MARBLE
Dark Emperador is an outstanding marble that provides style and distinction. A quality that is highly appreciated by architects and interior designers alike, who use it extensively to create unique, charming environments of unbeatable beauty.  Price starting from 350rs/sq ft to 500rs/sq ft. Another prominent feature is that it can be combined with other materials in different tones to achieve distinctive environments. As a matter of example, we can combine with other cream tone materials to achieve a relaxed look.
One of its main advantages is the ability to adapt its natural aspect according to the needs of each.
AMAZONITE MARBLE
Amazonite Marble is a vivid combination of brown, pink, and grey colors with an Aqua Blue background. Its chaotic and captivating pattern crisscrossed by veins and fissures is truly a unique stone. It is generally starting with 9000rs/sqft. This is one of the expensive and glossy marble that also can be used as granite.
Full of life and color, Amazonite, also known as "Amazon stone," is a semi-opaque blue-green variety of microcline feldspar. Amazonite is a mineral of limited occurrence and is present in parts of Brazil, Colorado, and Virginia in the United States, Australia, and Madagascar. Naturally, many people assumed the color was due to copper because copper compounds often have blue and green colors. More recent studies suggest that the blue-green color results from small quantities of lead and water in the feldspar.
Amazonite is a mostly opaque stone textured with pale milky-white cloudiness or streaking ranging from light green to greenish blue to deep green/blue. Amazonite's soft and attractive color closely resembles nephrite and jadeite. Amazonite's appearance is very distinctive with its grid-like, mottled, green, and white pattern. The color of amazonite is due to the presence of lead within the stone and color variation may exist within a single stone.
CREMA MARFIL MARBLE
Talking about Crema Marfil marble means talking about design, architecture, and decoration. For this reason, the best-known architects and interior designers in the world use this valuable material in order to create countless projects. Nature has been able to create, over the years, a beautiful and unique material called Crema Marfil. Crema Marfil marble starting with 350rs/sqft and above.
Consequently, we at Bhandari Marble World have tried to maintain the highest standards, taking care of this natural stone in every process, that is, from the block extraction to the manufacturing and laying of this material, always having in mind the same idea: to create a unique atmosphere.
RED LEVANTE MARBLE
The Red Levante is a dark red colored marble, with thin to medium grain and strong white veins distributed all over its area. It presents some variations in terms of red color, with some lighter or darker colored reds. The Red Levante is a hard natural stone. Red Levante is not more expensive it comes in a range of 450rs/sq ft.
This is one of the most beautiful red granite which has been valued for its rich beautiful red color and appearance. It perfectly fits anywhere in the house. This natural stone is highly durable and resistant to water and grease. It has a vast demand in the Indian and international markets.
ARMANI BRONZE MARBLE
Now we are coming to Armani Bronze it comes in a tone of Brown light and dark. It is a uniform colored marble having light veins, it is a Stylish and durable marble stone used for fine projects like flooring and cladding. This marble is available in both marble slabs and tiles.  Armani Marble is of vast use for construction and design projects. It is commonly in demand for the countertop, flooring, wall cladding, and stair casing.
Armani Bronze Marble Slabs into three categories according to pattern and color: First, Spider Brown Marble, which has lots of beautiful golden lines and light brown background color. Second, Armani bronze Marble Slab with a medium number of lines Scattered in the surface of marble separately, this sort of Armani Bronze Marble has a medium brown color of the background. The third grade of Armani Bronze Marble has a very dark bronze background, without any gold lines and pure.
Top 10 Most Popular white Marble
Statuario White Marble
Statuario marble is a highly sought-after material, characterized by its pure white background and bold, flowing grey veins.
Calacatta White Marble
Calacatta marble is known for its luxurious appearance, featuring a white background with prominent, elegant grey veining.
Carrara White Marble
Carrara marble is one of the most popular choices for white marble due to its classic white base and subtle grey veins.
Thassos White Marble
Thassos marble is renowned for its pristine white color and high luminosity, making it a stunning choice for creating a bright and elegant ambiance.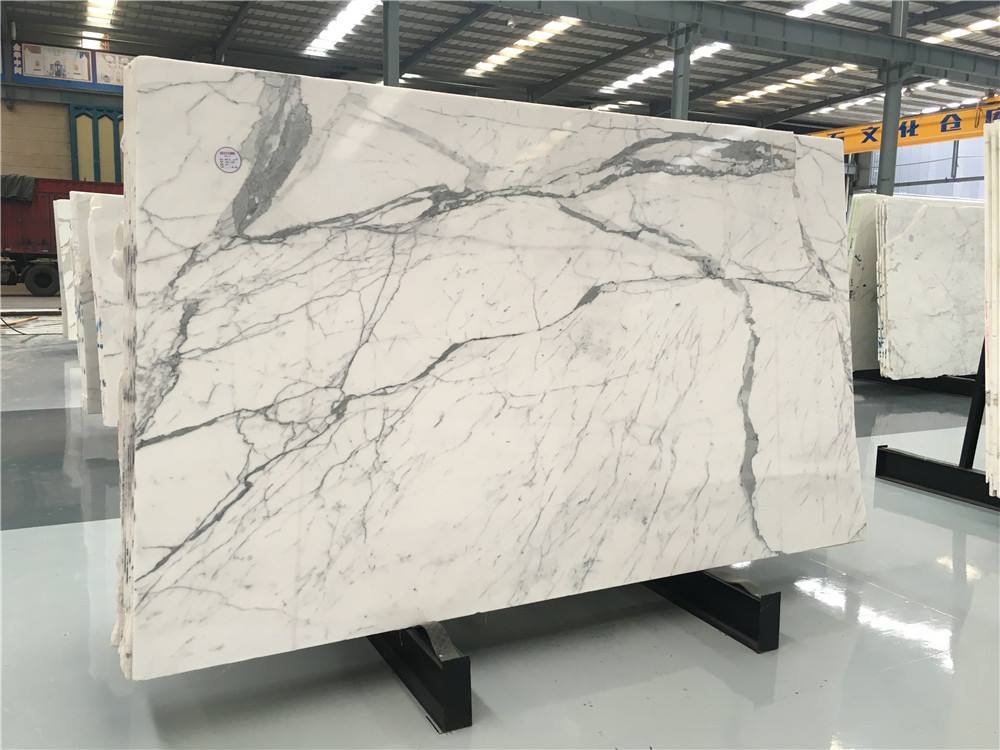 Bianco Venatino Marble
Bianco Venatino marble exhibits a beautiful white background with delicate grey veining, offering a sophisticated and timeless look.
Arabescato White Marble
Arabescato marble features a stunning combination of white and grey tones, with intricate veining that adds a touch of drama and visual interest.
Volakas White Marble
Volakas marble is characterized by its white background with occasional grey or light beige veins, creating a soft and serene aesthetic.
Bianco Carrara Marble
Bianco Carrara marble is renowned for its classic white appearance, featuring a subtle mix of light grey veins that enhance its natural beauty.
Crystal White Marble
Crystal white marble is known for its pure white color and minimal veining, offering a clean and contemporary look that brightens any space.
Venato White Marble
Venato marble showcases a white background with delicate grey veins, creating a harmonious and elegant atmosphere that exudes sophistication.