TYPES OF MARBLE GRANITE AND NATURAL STONE FOR YOUR HOME VILLA HOTEL AND PROJECT
#BHANDARI MARBLE WORLD
The History of Marble
Marble is another metamorphic stone, formed from the oceans. Shells and other calcium rich debris made of calcite or dolomite formed crystals under intense heat and pressure, deep underground. Marble is found in most mountainous regions that were at some point in time under water. The top marble producing countries are Italy, Spain and China.
Marble has been excavated for centuries. The Carrara quarry in Carrara, Italy is among the oldest quarries on Earth that is still in production. Michelangelo's statue of David, carved in the early 1500s was chiseled from Carrara marble, for example. Bhandari Marble World today sells exquisite marble from the exact same quarry in Carrara, Italy. Calcutta Gold is another popular marble.
Options for Flooring
Gauged/uncaused: At the time it is extracted, the slate is a rough, broken material like you would expect from any rock you find on the ground. When refined into tiles, natural stone generally goes through a process where the material is gauged, which refers to flattening the back in order to help the tile set into the mortar during installation. If the back is not flattened then both sides will be rough and bumpy. Known as uncaused slate, these materials are usually reserved for outdoor applications where they can be sunk into the ground for stepping stones.
Crafted: After being sliced into tiles slate is still naturally going to be bumpy and broken. In many cases, this is desirable, as it makes the material feel more rugged and earthy. When the surface is left un-refined it is called cleft, although the term "natural" is also often used to refer to it looking more like it would in its untouched mountain born state. Crafted slate has great traction, even when wet, but if the ridges are too extreme it can be uncomfortable to walk on barefoot.
Honed: In some cases, slate tiles will be polished to the point where they have perfectly smooth surfaces. This process dulls both the dimensionality and the colors in the stone, though the material does retain the same basic hues. When you touch the face of a honed piece of slate, you will feel that it still has some traction, though less than crafted floors will. Another effect of honing is that tiles will be more likely to show stains, and will be easier to scratch.
Honed Finish
Polished: This is a process where the tile is refined to the point that it actually glistens like marble. Very few slates have the textural temperament to achieve a polished finish, and those that do are easy to scratch and damage. However, the look can be simulated with honed tiles, through the application of multiple coats of seal and finish. Some special wax treatments can also be used to achieve the necessary glowing appearance.
Colors:
Solid: These tiles are predominantly one colour all the way through. The consistency of hue, and tone, across a single tile and across tile lots can vary to differing degrees in different types of slate. Floors made from solid-colored stone materials tend to be more formal and subdued. However, the unity of appearance does make it easier to see dirt, and small stains or scratches will be more visible.
Multicolor: Many slates will have multiple colors within their surface. These can be matched hues, or they can be wildly contrasting, depending on the type of material. When dealing with multi-colored stones you don't get the uniformity of solid colour pieces, but the floors tend to be more eye-catching and exciting. There are numerous multi-colored slate lines on the market, but the veins of material do tend to vary over
Marble
Marble was used for building tombs, temples, and palaces. For a time, it was considered as Royal Stone. It is, however, now used in hotels and homes too.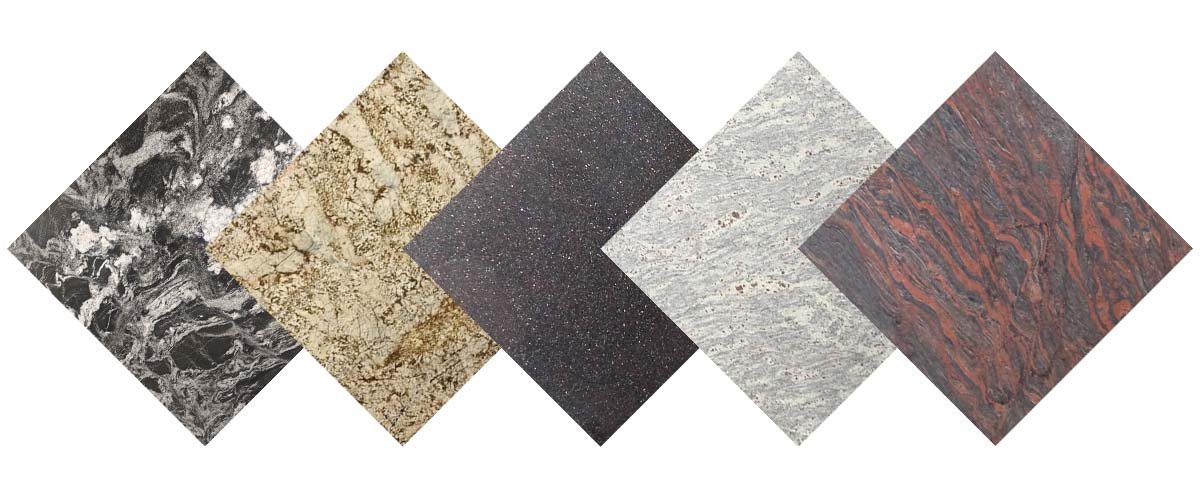 Some Collections of Indian Marble
FANTASY BROWN MARBLE
It is one of the most popular marble from India. There is brown and white like pattern is observed in this stone. It is very hard marble; in fact its hardness is comparable to granite. This is found in Jaipur region of the state Rajasthan, It is beautiful looks and granite like attributes makes it ideal choice for flooring. It is more expensive than other types of marble found in India.
SPIDER GREEN MARBLE
A green marble from north India . There is light green spider veins likes pattern can be seen on the green background of the stone.  Its main color is dark green. A soft material requires very careful processing and quality control.
PLAIN GREEN
It is color in medium green, it is found in the Udaipur also known as Udaipur Green Marble. This granite is very popular in gulf countries such as Turkey, Saudi Arabia, UAE and so on.  It is very cost effective marble.
RAINFOREST GREEN
This marble is found in Jaipur region of the state of Rajasthan, It's main background is green having brown color branches and veins like pattern spreading throughout the surface. This brown veins like tree giving the stone appearance of forest.
RAINFOREST BROWN
This marble is also found in Jaipur region of the state of Rajasthan. Its main background color is light medium brown containing dark brown and small white veins spreading throughout the stone surface.
AGARIA WHITE MARBLE
A common type of white marble found in the Rajsamand region of the state of Rajasthan. Light grey cross waves like pattern is found in the white surface of the stone. Sometimes grey colored veins like region can be seen on the stone.
BRUNO WHITE MARBLE
A white marble from North India. It is color in bright white and brown grey wavy pattern is seen on the surface of the stone. High level of variation is observed in this stone.
PANDA WHITE MARBLE
It's also known as Nizarna. A kind of white marble having thin and thick lines on the surface of the stone. These black lines are generally found in the middle of the stone and can vary in thickness. It is because of black regions and lines it is named Panda White.
JAISALMER YELLOW MARBLE
A yellow marble which is found in the Jaisalmer region of the state Rajasthan. It is color is dark yellow and there is no any pattern is visible on the surface of the stone.
So, far we have discussed most of the notable marbles found in India. You can see most of them are located in the state of Rajasthan. As marble is not as hard as granite it's often used for making statues and sculptures. White marble particularly is suited for this purpose. It's common to see marble statues in temples, museums and historical places. Marble can also be paired with Indian granite to give a spectacular look. Another advantage of marble over granite is that its appeal and shine does not fade after long period of time
Granite
India has varieties of granite in over 300 shades. As of 2019, Granite reserves in India were 48500 million cubic meters and ranked fifth in the export of the processed product. Resources are found in Madhya Pradesh, Orissa, Tamil Nadu, Karnataka, Jharkhand, Chhattisgarh, Rajasthan, Telangana, and Andhra Pradesh.
Collection of Indian Granite
TIGER SKIN GRANITE
Tiger Granite is famous due to its look that looks like really Tiger skin. Tiger granite is one of the hot-selling granites from India.  Tiger granite is North Indian granite. The quarries of Tiger granite are located in Jalore district of Rajasthan. This granite is mainly used for flooring, countertops and wall tiles.
P WHITE GRANITE
The P. White Granite is one of the famous varieties from India. P. white is white based having gray chunks and light black speckles. Owing to its good hardness, low absorption power, good look, and mirror polish make it popular worldwide. It takes good polish and smooth finish. P. White is a kind of white granite quarried in Jalore district of Rajasthan, India.
S WHITE GRANITE
S White Granite is also known as Aqua white granite. Its black and white color gives an attractive look. The white background is an attractive color in it. It has a small figure with black and silver gray shades.   It is medium hard granite. This granite is extracted from Jalore, Rajasthan. Its water absorption power is medium.
R BLACK GRANITE
R Black Granite is a kind of black granite quarried in Rajasthan from hills of Aravali. The R Black granite is recommended and considered as a good option for countertops and flooring. When place in the right direction, these granites make beautiful patterns. The R Black granite is also known for its shine and color.
FISH BLACK GRANITE
It's black granite with fish like white dots in the background. It is native to Rajasthan, India. Fish Black Granite is good for counter/vanity tops, flooring, cladding, marble handicrafts, swimming pool areas, bathroom walls and floors, fireplace walls, external and internal aids in construction. Fish black granite can be processed into polished, sawn cut, sanded, rock-faced, sandblasted, and tumbled, and so on.
Sandstone
India is among the leading countries when it comes to mining and export of sandstone. The best part with Sandstone from India is that it is available in different colors and considered best for interior as well as exterior use. Few most popular sandstone products from India include names like Tint Mint, White Mint, Mint Fossils, Modak, Agra Red, Rainbow Sandstone, Raj Green, Teak, Buff Brown, Dholpur Chocolate, Beige, Dholpur Pink, Lalitpur Pink, Mandana Red, Jodhpur pink, Jodhpur red, Jaisalmer yellow, etc.
Slate
Slate reserves in India are found in Rajasthan, Behror, Haryana, Himachal Pradesh, Andhra Pradesh, and Madhya Pradesh. Deposits in Rajasthan are spread over the districts of Alwar, Ajmer, Bharatpur, Tonk, Sawai Madhopur, Pali, Udaipur, Churu, and Chittorgarh. Few important names in slate are Jak Black, Silver Shine, Silver grey, Panther, Deoli Green, Peacock, Peacock Multi, Kund Black, Kund Multi, and so on. Being to some extent fragile in nature, it is good for interior use only and can be used even as washboards.
Added by an expert team of Marble Granite & Natural Stone