STONE COBBLES
STONE PAVERS
STONE TILES
STONE FLOORING
STONE COBBLES
Stone Cobbles are natural stones that are made from granite – or any other natural stone for that matter. Once they were mined they were "cobbled" into various sizes. In this case, to cobble means to make into a particular size and shape. Most natural stone cobbles were between two and ten inches in size. However, the stones were not used in their raw state, rather they were set in mortar and sand. This ensured that they did not crack despite the amount of force applied to them. Also, this ensured their durability which is still visible on the streets until today.
If you are looking to use stone cobble in your interior and exterior decor then you should. They exist in different shapes, sizes, patterns, and colors. You can, therefore, use them in any design of your project. stone cobbles are a supreme choice for both commercial and residential use. For residential application, you can use cobble paving mostly for flooring for both indoor and outdoor decor. You can apply it to your driveway, pathway, verandah, balcony, walkways, patios etc. They are ideal for flooring because they do not crack, and are easy to repair. Also, their aesthetic appeal will elevate the beauty of your flooring.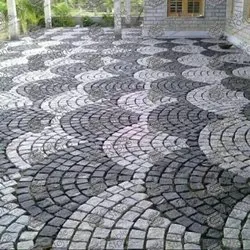 STONE PAVERS
Stone pavers such as granite tile paver without using artificial additives. Therefore, they are purely 'natural.' The natural paver is crack-proof and offers great durability, strength and flexibility to bear heavy loads. Whether your outdoors receive high foot traffic or automobile traffic, it stays intact and beautiful for years. The installation process of stone paver is comparatively simple and quick. You can start using it immediately after installation is done. Besides, it can be laid in any moderate weather condition to keep up with time and budget management.
BENEFITS OF STONE PAVERS
DURABLE AND STRONG
QUICK TO INSTALL
EASY TO MAINTAIN
ALWAYS FRESH LOOKING
GREAT IN ALL SEASONS
STONE TILES
Choosing the aesthetic of your home can be a fun activity, but it exhausting really quick, and so to guide you through the whole process, each week, we come up with new interesting topics for you to check out. This week topic is Stone Tiles. If you like the natural aesthetic of stone tiles, then you should definitely have a look at stone tiles. Stone design tiles are known to bring natural aesthetics to the home; homeowners, designers, and architectures are all over that aesthetic. Unlike stone tiles, stone design tiles are less bulky & cost-effective and trust us; you would not have to compromise on the aesthetics of the traditional stone tiles. While it adds to the beauty of the home, stone tiles have many additional advantages over natural stones tiles that make them the ideal choice for your next home improvement project.
STONE FLOORING
Natural stone flooring adds natural beauty and timeless elegance to any room, be it a kitchen, bathroom, living room or bedroom. Because, when it comes to flooring, there nothing more elegant and luxurious than stone tiles. A sandstone is often used for outdoor paving but with the right finish it can be a wonderful choice for kitchen floors. As with any stone, sandstones differ in their composition and density, and thus some are more suitable than others for kitchen flooring. We have used our natural stone expertise to introduce a new selection of sandstone tiles.
WORLD'S TOP AND INDIA'S BEST MARBLE, GRANITE AND STONE COMPANY
ADD BY EXPERT AND EXPORT TEAM OF BHANDARI MARBLE GROUP. CONTACT US ON: +919829040013.