HISTORY-OF-MARBLE-GRANITE-NATURAL-STONE-IN-CONSTRUCTION-CONTRIBUTION-OF-BHANDARI-MARBLE-WOLRD-INDIA
Marble, Granite and Natural stone has popularity began in ancient Rome and Greece, where white and off-white marble, granite and natural stone was used to construct a variety of structures, from hand-held sculptures to massive pillars. Natural stone has been used to construct buildings since the beginning of time, these are the structures that are uncovered in many archaeological dig sites today.
Today in this blog we will talk about the history of Marble, Granite and other natural stones which are used now a days in every kind of area, weather it is a house or big building or we can a huge construction area. Every where people loving the use of marble, granite and different kind natural stones. They are trying to make something new with collaboration of marble & granites.
Marble is one of the oldest and most beautiful stones available on the market for countertops, flooring, staircases and other useful area for a house and villas.
HOW MARBLE GOT ITS START IN ANCIENT TIMES
The Greeks and Romans chose marble for their structures due its beauty. However, the process of mining marble was quite lengthy. Hammers and wedges were used to release marble from the earth. It was then pulled from its source with the help of pulleys, winches, levers, and wooden beams.
Aside from statues and buildings, coloured marble was used to create beautiful tile flooring. The color of marble varies due to different minerals that are present in the stone. For example, pure calcite marble is white. Red marble gets its tone from hematite, and limonite gives marble a green or yellow tone.
MARBLE & GRANITE COUNTERTOPS THE CLASSIC BEAUTY
It's hard to deny that marble & granite countertops add a touch of elegance to nearly every kitchen. Its stark white appearance makes kitchens look clean and strikingly classic. This stone has been a popular aesthetic option for centuries, and it perfectly ties in its classic beauty. When you think of natural stone countertops, marble, granite and natural stone are probably the top surfaces that come to your mind. However, there are many more options!
Natural stone is a classic choice for countertops because of their one-of-a-kind beauty. Here is an overview of natural stone and some information on its benefits, finishes, applications and more. Since natural stone comes from mother nature, each slab is unique with different shade variations, fissures, cracks, chips, pits and pores. Don't let this scare you away!
This is what makes natural stone so beautiful! Some other great qualities of natural stone are its durability. Some natural stone is resistant to scratches, bacteria, stains, heat, and can be used for outdoor spaces. Depending on what finish you choose, it can alter the overall look and resistance of your countertops.
FINISHES FOR MARBLE & GRANITE
Finishes are the last step of the fabrication process before your slab gets delivered and installed in your home. Depending on your design tastes you can choose if you want your countertops to be smooth, textured, glossy, or have little to no shine and you achieve this is by the finish.
• Polished: To achieve semi-gloss to high-gloss on your surface, polished is the way to go. Stains are less likely to occur on polished countertops, but a potential downfall to having a high shine surface is that scratches are easier to see.
• Honed: Honed is a very popular finish for marble and creates a smooth, velvety, matte look. The benefit of having a honed surface is that scratches are difficult to see, but this makes the surface more susceptible to stains.
NATURAL STONE CAN BE INEXPENSIVE, IF IT'S READILY AVAILABLE
When natural stone is readily available in a building area, it can be an inexpensive way to build walls of a home. Many mountain homes use rock for wall systems. Another example is using fieldstone for pillar work, landscape projects or walls from stones that can be found in farmer's fields, or lifted from the ground at construction sites.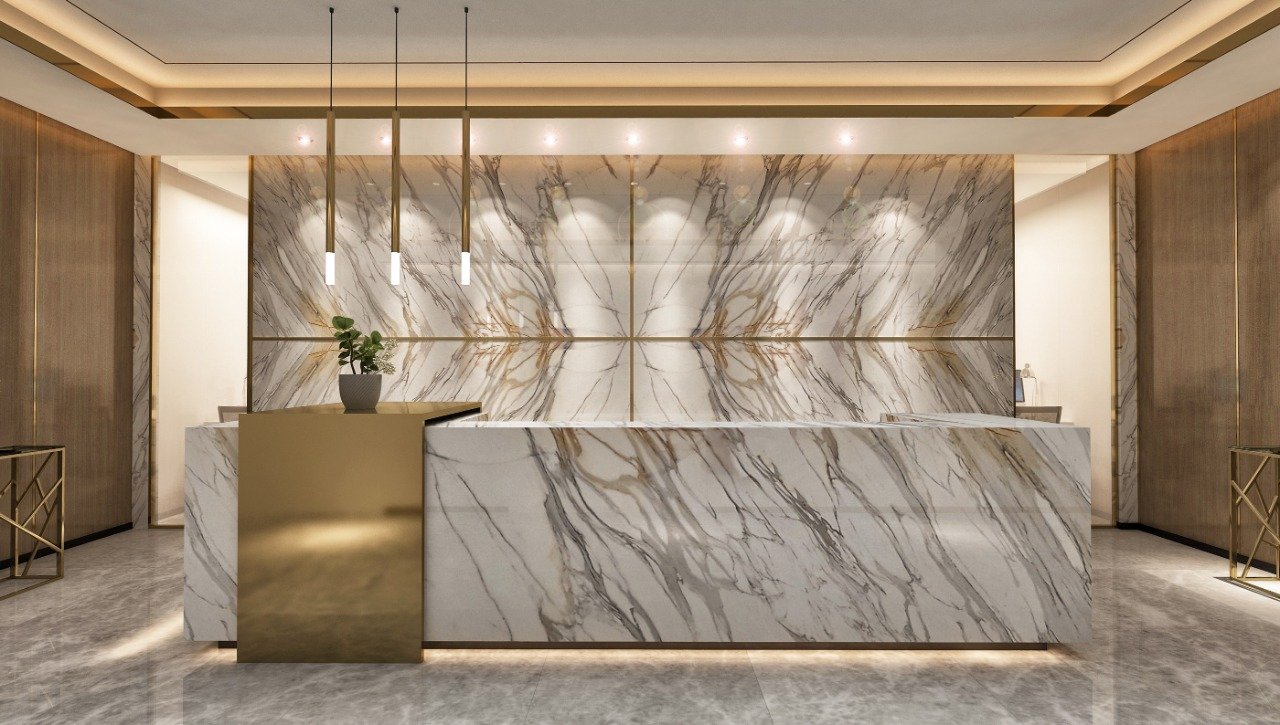 However, because rock takes so long to form, it is not a renewable resource. Using rare types of rock or importing unique rock materials from distant places became expensive.
MATCH THE STONE TO YOUR DESIRE HOME
There are many types and colours of natural stone that can complement your home. Many suppliers have samples that you can view and take home for matching, before purchase. For example, EcoStone Products have various types of stone you may ask your contractor to install. Contractors sometimes have a regular supplier who will offer consumer discounts for materials installed by that particular contractor.
HIRING A PROFESSIONAL ENSURE A LOOK YOU WILL LOVE
You should hire a certified mason, or professional landscaper to deal with large natural stone building projects or landscaping natural stone walls and walkways. Real stone is heavy, and mixing and slugging cement is heavy. Landscapers and masonry staff use proper machinery and methods to finish natural stonework safely and quickly.
By D.C. Bhandari
ADDED BY EXPERT TEAM OF BHANDARI MARBLE WORLD…9784593721