MARBLE FLOOR TILES OPTIONS AT BHANDARI MARBLE WORLD
Our Research and Development team still creates a history where we are constantly on the lookout for more excellent quality products that the marble industry has not searched for yet. The team is dedicated to bringing such marble and stones to light which are an excellent option for our customers and also a tough competition for the existing Italian Marbles.
The above are just a few reasons why Statuario marble could be the perfect building material for your luxury interior project. Here at BHANDARI MARBLE, we are market leaders in Italian Stone in India. To discuss your options and how to make natural stonework for you, drop into our showroom today or give us a call or email and we'll be happy to give you an honest and expert opinion.
It may surprise you that marble is typically formed out of limestone or dolomite rock, both of which are common types of sedimentary rocks. The rocks are then metamorphosed under heat and pressure when the earth's crust moves, resulting in a re-crystallized and hard marble stone. Depending on the chemical composition of the original sedimentary rock, and the conditions under which it metamorphoses, the marble can take a variety of appearances, though nearly always with distinctive wavy veins running through it.
Marble can be categorized in a number of ways, and knowing the differences will help you make informed decisions.
ITALIAN STATUARIO MARBLE:
This is a white marble extracted in Italy, together with other major white marble such as the Carrara White. Italy has a strong history in terms of white marble extraction and the Statuario gained a strong reputation in the past decades. It is today a type of marble that has very limited availability, but a considerable demand. It is then a very exclusive and expensive type of marble, which is mostly used on 5-star hotels, small private luxurious projects and applications with high budget. This is a type of marble not affordable for all, being mostly used on smaller exclusive projects.
Statuario marble contains the same white and grey hues found in Carrara, with grey veining similar to that which you'll find in Calacatta slabs. This marble is a very bright white in color, and it is relatively rare. This makes it one of the pricier and more sought-after marbles available on the market. While Statuario is revered in Italy for being the perfect marble for carving statues, it is also an ideal material for residential and commercial projects. Given its rarity, it is not surprising that Statuario marble is often used as a focal point in any room in which it is featured.
Like its Calacatta counterpart, this beautiful white marble variety works well in a large tile format, as well as in the form of countertop slabs or book-matched backsplashes or wall panels. Statuario marble is an ideal stone for indoor applications. Like its Calacatta counterpart, this beautiful white marble variety works well in a large tile format, as well as in the form of kitchen and bathroom countertop slabs or book-matched backsplashes or wall panels. Due to its more porous nature, however, Statuario marble should not be used for exterior applications.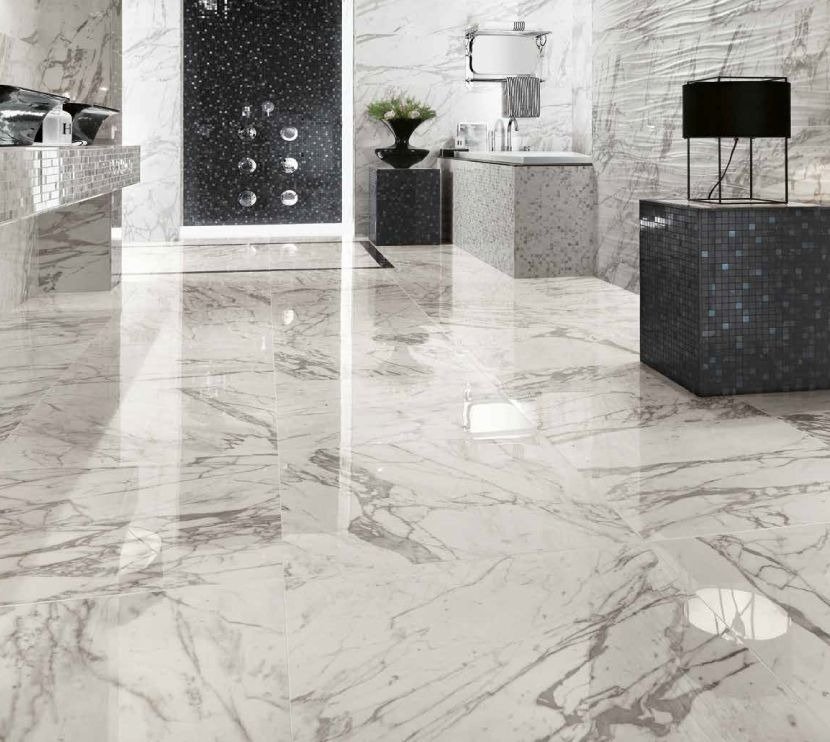 Statuario Marble Tiles
The thickness of Statuario marble may vary between 15 and 20 mm. Statuario Tiles are available in sizes of 1×1, 2×2, and various customized sizes are also made available as per the customer demand. BHANDARI MARBLE WORLD has been regularly engaged in dealing with the white Statuario marble and provides the best Statuario marble price to the customers.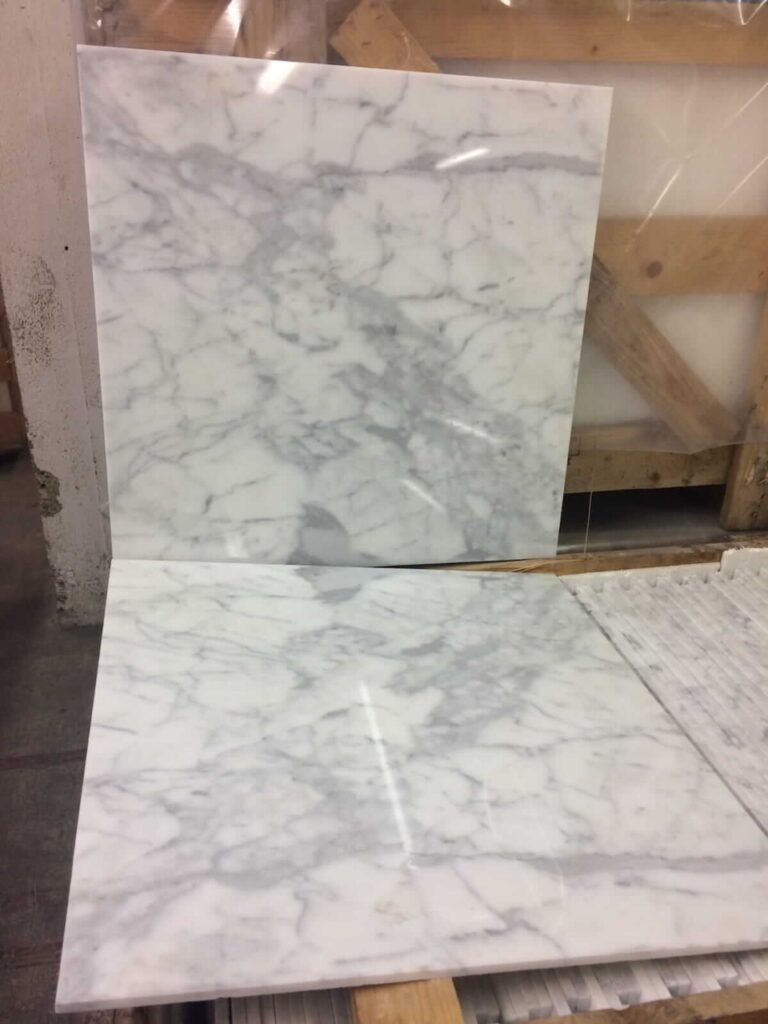 The motto of the company is customer delight i.e. to meet the requirements of the customer and serve them with the qualitative product at a reasonable rate. The Statuario white marble flooring texture, patterns, images are provided in the gallery section of the website. You can get the white Statuario marble price from our chief sales executive by dropping an e-mail or message.

Carrara Marble
This classic white or light gray stone with soft gray veins is one of the lightest colored marbles used for flooring tiles. It is quarried in the city of Carrara in the northern tip of Tuscany, Italy. With hundreds of operating quarries producing it, Carrara marble is one of the most readily available marbles you can choose. By some accounts, more than 80% of all marble used in residential construction up to now is Carrara marble. Supplies of Carrara marble are dwindling, however, and you can expect other different sources of marble to come into heavier use in the coming years.
Calacatta Marble
Calacatta marble is a whitish marble with very pronounced veins ranging from gray to golden brown. Originating in the Apuan Mountains in Carrara, Italy, it is a high-end luxury stone that is used both in countertop slabs and flooring tiles. It is available in both honed and polished finishes. Calacatta is quite similar to Carrara marble, but with more prominent veining. This is a rare and more expensive form of marble.
Volakas White Marble
Volakas Semi White Marble is a kind of white marble quarried in Greece. This stone is especially good for Exterior – Interior wall and floor applications, monuments, countertops, mosaic, fountains, pool, and other design projects. It also called Volakas Blue Marble, Volakis Ambrosia Marble, Volakas Dramas Semi White Marble, Volakas Drama Semi White Marble, Drama Multicolor Whiten Marble, Volex Marble, and Volakas Marble. Volakas Semi White Marble can be processed into Polished, Sawn Cut, Sanded, Rock faced, Sandblasted, Tumbled, and so on.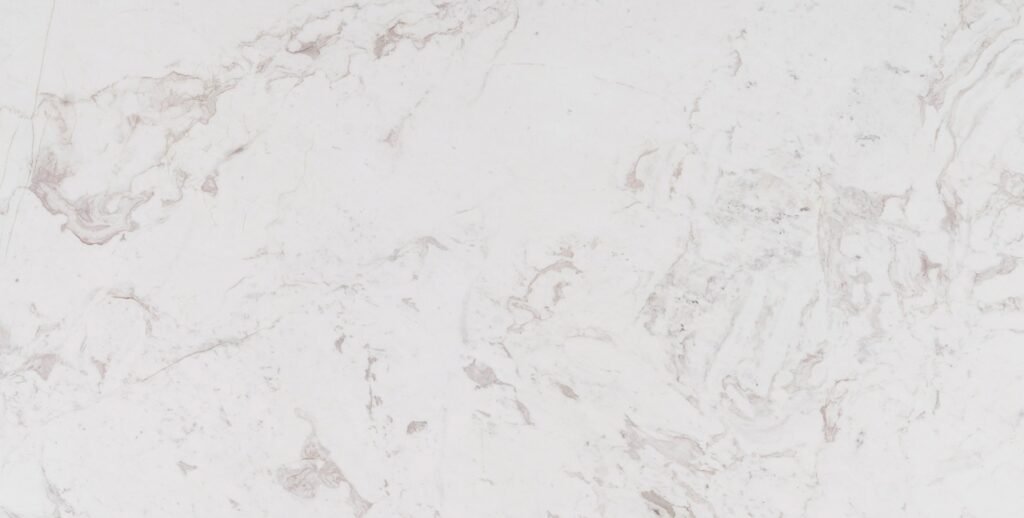 Crema Marfil Marble
Crema Marfil marble is a textured creamy beige stone with soft veins of color including tones of yellow, cinnamon, white, and even goldish beige. Crema Marfil marble is a natural stone and, as such, nature herself gave it form, thus there are no two pieces of Crema Marfil that are exactly the same. This quality represents a great advantage for the architect who wished to create exclusive ambiances.
Because of the Crema Marfil tonalities, it is a type of marble that forms perfect combinations with the other construction materials and, in turn, is a grand ally in any decoration type. Because of the Crema Marfil tonalities, it is a type of marble that forms perfect combinations with the other construction materials and, in turn, is a grand ally in any decoration type.
Advantage of Crema Marfil
A unique construction Material
Excellent in combination with other materials
Finish Versatility
Multi-Purpose Use
Price Diversity
The disadvantage of Crema Marfil
Finishes in Marble Tiles Used
Marble tile can be finished with any one of several different surface styles. The most popular marble finishes are polished, honed, tumbled, and brushed.
In lighter-colored marbles, polished tiles will actually glow, with the light of the room penetrating slightly into the stone and then reflecting outward with soft illumination.
Honed marble may be more muted and often does not have the same vibrancy of color as a highly polished stone. The finish also still has a relatively low coefficient of friction (which means it's still somewhat slippery), and it can be scratched if not cared for properly.
Each piece of tumbled marble is slightly different. Though the tiles are fairly standard in size, the shapes will vary slightly, and not every piece will be a perfect right-angled square or consistently textured. This irregularity is part of the appeal of using honed materials.
The brushing process, however, creates a somewhat porous surface that must be frequently sealed in order to resist staining. The floor needs to be cleaned frequently because dust tends to collect in the textured pits of the surface.
Added By Expert & Export Team of Bhandari Marble World 9672941111