TRAVERTINE-STONE-OR-MARBLE-WHAT-IS-TRAVERTINE? -EVERYTHING-YOU-NEED-TO-KNOW-ABOUT-THIS-NATURAL-STONE-TYPES-COLOUR-PRICE-SIZE-SLABS-TILES-THICKNESS-FINISHES
TRAVERTINE STONE
Travertine is a type of limestone that is formed by mineral deposits from natural springs. This sedimentary stone is created by a rapid precipitation of calcium carbonate, known as calcite. Other minerals mix together with the calcite to create unique swirls and movement that give travertine its distinctive character. Travertine is a form of terrestrial limestone deposited around mineral springs, especially hot springs. Travertine often has a fibrous or concentric appearance and exists in white, tan, cream-colored, and even rusty varieties.
It is a very durable stone, and while it is easier to care for than some types of natural stone, travertine is very heavy, and its porousness requires that you seal the surface regularly, But a properly installed and cared for travertine floor can add a unique blend of mountain-born beauty to interior spaces.
MARBLE
Marble is a metamorphic rock composed of recrystallized carbonate minerals, most commonly calcite or dolomite. Marble is typically not foliated, although there are exceptions. Marble is commonly used for sculpture and as a building material. Marbles are used principally for buildings and monuments, interior decoration, statuary, table tops, and novelties. Colour and appearance are their most important qualities.
MARBLE OR TRAVERTINE
Marble is formed when limestone comes under high pressures and temperatures. Travertine, on the other hand, is formed under additional high pressures and temperatures too, however travertine is formed in hot springs and limestone caves. Both stones may end up needing touch-ups over time, but surprisingly, travertine ends up being the more durable of the two. Both stones are porous, but travertine is more porous than marble and can be used without being sealed in outside areas where you don't want to slip around from standing water on the stone.
Natural travertine can sometimes cost less than marble because it is easier to cut, reducing costs on this end. In other instances, a natural slab of travertine can cost more than cultured marble, however you can find similar costs in both depending on the quality.
WHAT IS TRAVERTINE
Travertine is a natural stone that is a type of limestone, although there are very distinct differences between the two materials. This sedimentary rock forms in limestone caves and near hot springs. From this rock, travertine stone is cut and shaped into slabs. Although color variations exist, travertine surfaces can be found in a range of lighter colors, such as light grays and golds. Some types of the material can also have veining.
Natural stone is expensive to buy. Travertine tile can last for decades, but the initial material cost is often higher than other materials. It's heavy and requires trained professionals to install. Travertine tile is a great choice for bathrooms not only because of its beauty, but also for its simple maintenance. Travertine in bathrooms is easy to clean and hardly shows water spots and soap scum – the bane of homeowners everywhere. A squeegee works well enough to remove these stubborn stains.
TYPES OF TRAVERTINE
Premium, Standard, and Commercial. Premium grade, which is sometimes called first grade, is a tile that has been perfectly cut and has a uniform thickness throughout with very little filler.
Travertine comes in different colors: Tan, Ivory, Gold, Shades of off-white, and a really nice reddish brown.
SILVER TRAVERTINE
Silver travertine is a chic color from the travertine family which is a form of limestone deposited by mineral springs. This silver-coloured natural stone has a porous structure and is often used in construction as a building material for houses, offices, hospitals, temples, shrines, swimming pools and bath complexes.
BEIGE TRAVERTINE
Travertine Classic is a dark beige travertine with a a striped structure, and delicate stains like linear watercolors, natural stone. Formed by precipitation of calcium carbonate. The main mineral is calcite.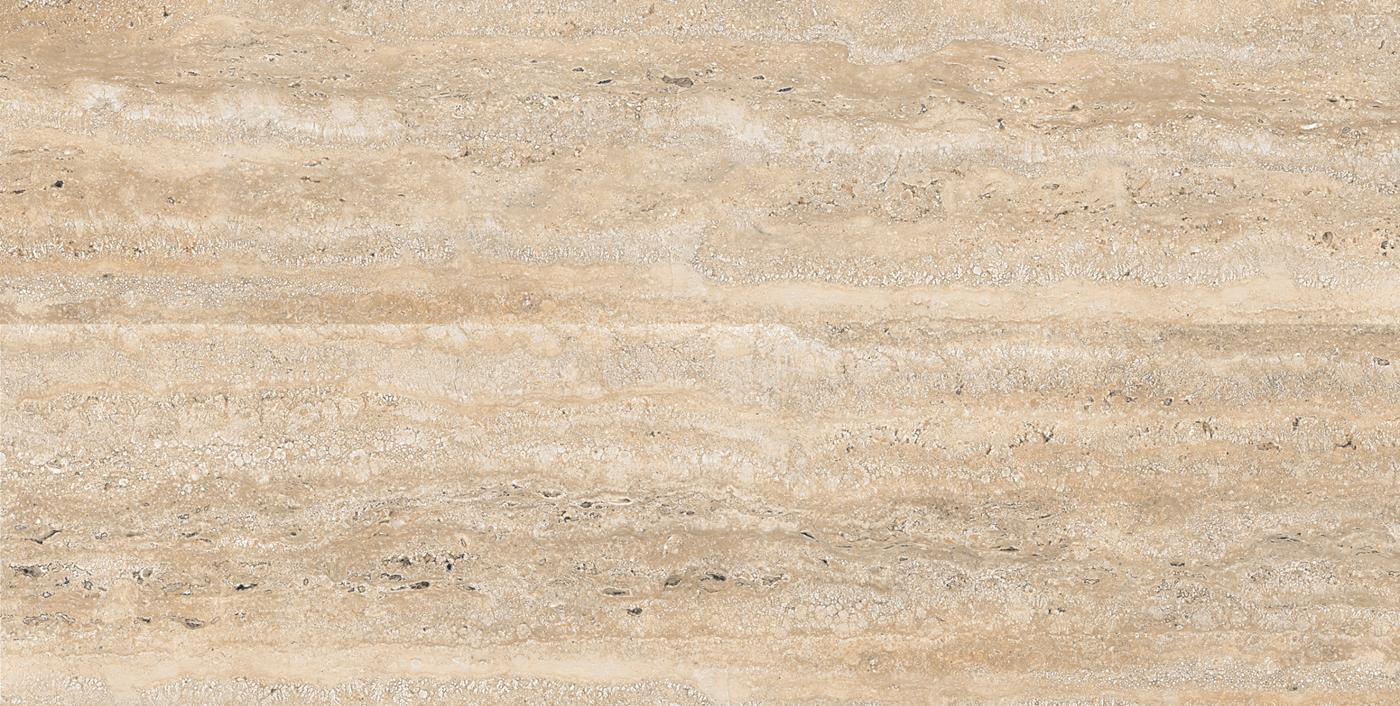 YELLOW TRAVERTINE
Gold Travertine is a nice mixture of light to dark gold with undertones of beige, brown and black veining. Gold Travertine is quarried and produced in Turkey.
WALNUT TRAVERTINE
Walnut is a light to medium beige material with fairly little movement. This is one of the most common Travertine stone colors you will see on the market today. Walnut Travertine is quarried and produced out of Turkey.
RED TRAVERTINE
Red Travertine is a beautiful natural stone extracted from Iran or Turkey whose color may vary in intensity from deep red to more tenuous shades, based on the quarry and block of extraction. The veining may also vary in color from cream to white and the color shadings that may be more intense that its background color.
TRAVERTINE COST
Travertine is generally started with price 225rs/sqft which is for rough material, if client require it with polish or any other finish charges will be as per.
TRAVERTINE IN TILE & SLAB
Travertine is a form of limestone that forms around mineral spring deposits. Tiles made from this stone are used as flooring material. Here's What You Should Know About Natural Stone Flooring. Cost of travertine slab vary depending on their type. The slab can have their prices varied between rs225 to rs450 per sq. foot. This is the cost of only the stone.
Travertine tile on the other hand is a naturally made material which is more expensive. Ceramic tile, and particularly Porcelain tile which is a form of ceramic tile made from more refined material, holds up very well to staining.
USES OF TRAVERTINE
Most commonly, travertine marble is in demand for bathroom flooring. But it is also popular in kitchens, outdoor spaces, and to decorate walls, ceilings, and countertops. Travertine Marble is the best to know for its external use. It is also usually in demand for External Marble. Travertine is commonly used for the Garden Path and Paving Patio. Considering all the positive qualities that this natural stone has, it is an excellent choice for any home.
TRAVERTINE AVAILABLE THICKNESS
Travertine usually comes in regular thickness which is 16mm to 18mm but if any one has a special requirement for thickness it can be cut in that too. It can be come in 16/18/20 or more than 20mm as well.
FINISHES CAN BE APPLICABLE IN TRAVERTINE
Honed and polished travertine have flat and smooth surfaces, however honed travertine has a matte finish, whereas polished travertine has a glossy finish. The matte finish tones down the look of the travertine tile and makes it appropriate for every room in the home.
Polished: Since durability of travertine depends upon the finish type, polished travertine tiles are most durable and long lasting. Though their shine wears off with the passage of time but still the pores won't wide till the sealant is intact. Polished Travertine's glossy shine gives the effect of marble.
Honed: Honed finish Travertine can be filled or unfilled. A honed stone has a smooth texture and finish that is achieved by grinding one side of the unfinished stone. The finish can range from a dull matte to a satin or high sheen.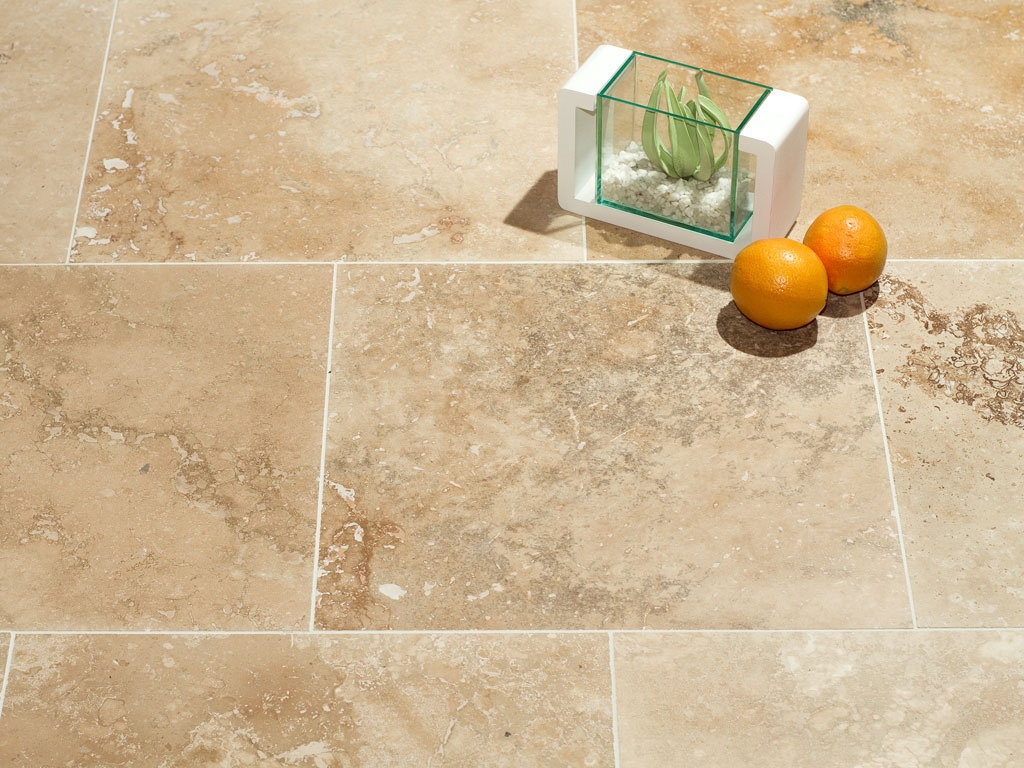 IT'S ALL ABOUT TRAVERTINE WRITTEN BY MD MR. DC BHANDARI
WORLD'S TOP & INDIA'S BEST MARBLE GRANITE & NATURAL STONE COMPANY
FOR MORE CAN CONTACT US: +91-98290-40013/97845-97321