THE-GREEN-MARBLE-INDIAN-MARBLE-PICTURES-PRICE-TYPES-FOREST-GREEN-MARBLE-INDIAN-GREEN-MARBLE-BARODA-GREEN-MARBLE-DARK-GREEN-MARBLE-POLISHED-GREEN-MARBLE-GREEN-MARBLE-TILES-HSN-CODE-FOR-GREEN-MARBLE-REASONS-TO-CHOOSE-GREEN-MARBLE-GREEN-MARBLE-IDEAS-FANTASY-GREEN-MARBLE-RANGE-AND-COLOUR-NATURAL-STONE-GREEN-MARBLE-UNIQUE-GREEN-MARBLE-GREEN-MARBLE-EVERY-WHERE-MARBLE-GREEN-MARBLE-SLABS-THICKNESS-AS-PER-YOUR-NEED-SIZE-STANDARD-AND-CUSTOM-NEED-FOR-HOME-VILLA-HOTEL-AND-PROJECT-FLOORING-ELEVATION-DECORATION-LANDSCAPING-AND-COUNTER-TOPS-IDEAL-SLABS-TILES-MANUFACTURERS-SUPPLIERS-AND-EXPORTERS-IMPORTED-AND-INDIAN GREEN-MARBLE-AVAILABLE-QUALITY-WITH-QUANTITY-BY-WORLD'S-TOP-AND-INDIA'S-BEST-INDIAN-MARBLE-GREEN-MARBLE-COMPANY-IN-INDIA
THE GREEN MARBLE
Fresh, sophisticated and full of character, green marble is a natural stonework that captures everyone's imagination at first sight. This type of marble is full of vitality, making an ideal option for those who want to bring a fresh and comfortable flair to any room.Indian green marble is an exquisite variety of marble that has gained immense popularity the world over. Known to the western world as Verde Guatemala, Indian green marble is adorned with natural charismatic beauty admired by all. In fact, India is widely recognized as the largest source of green marble.
TYPES OF GREEN MARBLE
We are all used to white marble taking over our kitchens (countertops), bathrooms (sink and vanity area) and even the living rooms (murals, tabletops, and so on). However, have you ever considered experimenting with the other coloured types of marble? For a more memorable looking interior, consider green marble stone. Here are spaces that were enhanced with this magical marble.
FOREST GREEN MARBLE
Also known as Verde Guatemala marble, Forest Green marble comes from the Rajasthan state of India. This marble is known for its eye-pleasing looks as well as durability.
Origin NORTH INDIA
Tiles 30×30, 30×60, 60×60 CM
Gang saw 260 x 160 CM
Cutter Slab 180 x 60 CM
Thickness 2-3 CM
BARODA GREEN MARBLE
Baroda Green is a kind of green marble quarried in India. It also called Baroda Green, Verde Baroda Marble . Baroda Green Marble can be processed into Polished, Sawn Cut, Sanded, Rock faced, Sandblasted, Tumbled and so on. Consider India's one of the most sought-after natural stones, Forest Green Marble. The stone appears like a bountiful green gemstone with branching veins. The stone is mined in Keshariyaji, Udaipur, Rajasthan, North-West India.
DARK GREEN MARBLE
The Dark Green Marbles comes with a very beautiful pattern on dark green Colour. Dark green marble is a marble that is crystallized and is naturally the color green. it is an excellent choice for someone who likes dark colors and it looks very elegant too.
POLISHED GREEN MARBLE
White marble enriched with calcite tends to be costlier than dolomite marble (coloured) with mineral impurities. Natural variegation are more common than finding pure white marble. White marble quarries are limited and so they cost more than most types of commonly available marble varieties.
GREEN MARBLE TILES HSN
Indian Green Marble is the most usable material in every house now a days, even it is also beat the exporting. We at Bhandari Marble World regulaary supplying Indian Green Marble in domestic as well as export. The HSN code which is used for Indian green marble is 25151220
REASONS TO CHOOSE GREEN MARBLE
Green marble has a decorative look and its wide variation in veining and colouring is considered its best trait. In this small bathroom, the white bathtub looks striking against the green marble tiles. Green marble stone is long-lasting and brings instant style into a space. Here, the emerald-green hue on the counter top looks elegant, especially when offset by the brown cabinets and door.
Not only does green marble look like a striking addition to this kitchen, it also adds a functional value to the space. The material is great for hot areas – so no matter how much cooking, heating and reheating happens in the cook room, making the space sultry, the marble's surface stays cool. The stone is also strong and heat-resistant. Green marble stone is versatile and has a wide number of uses. Since it is a durable, long-lasting material, it can be used for flooring, counters and even built-in seating. In this bathroom, the cream space gets a lift with the sprinkling of green all around.
In this bathroom, an outdoorsy look is achieved with the mixing of green marble with the brown wooden elements. Wood has a warm appeal and its smooth uniform look is juxtaposed with the textured organic appearance of green marble.
GREEN MARBLE IDEAS
Recommended Usage: Counter tops, monuments, mosaic, exterior – interior wall and floor applications, fountains, pool and wall capping, stairs, window sills and other design projects. Finishing Surface: Polished, sawn cut, sanded, rock faced, sandblasted, tumbled.
Nature offers us an extensive range of marble colours and it is, therefore, possible to create infinite unique spaces. Each type of marble has an implicit sensation, for example, Crema Marfil transmits warmth, black elegance, red strength and brown versatility.
GREEN MARBLE SLABS THICKNESS AS PER YOUR NEED SIZE STANDARD AND CUSTOM NEED FOR HOME VILLA HOTEL AND PROJECT
Marble which received its name from the Greek word 'marmar' meaning 'to shine' is famous for its rich looks and reflectiveness. The green marble goes one step ahead in giving a natural green luster, reminiscent of green forest. Its graceful appearance creates a mesmerizing ambiance and livens up any space by becoming the point of attraction.
For Interiors – The green marble in interiors can establish a royal appearance by application in building columns inside large rooms and halls. Not to mention, this stone steals away the show when it is installed in spacious living in conjunction with light interiors.
For Exteriors – Green marble is one of the best options to enhance the beauty of outdoor space. Multiple shapes of green marble are placed together in order to create customized pavings or luxurious walkways. With high durability, this stone becomes the prime choice for designing building facade. Along with this, the stone in combination with white marble can create beautiful staircase, ramp and patios.
For Decoration – Nowadays, green marble is used in designing stone craft including monuments, fountains, table tops, planter and sculptures. Not only this, the stone is installed in the lining of the fireplace in the spacious living room to beautify the space.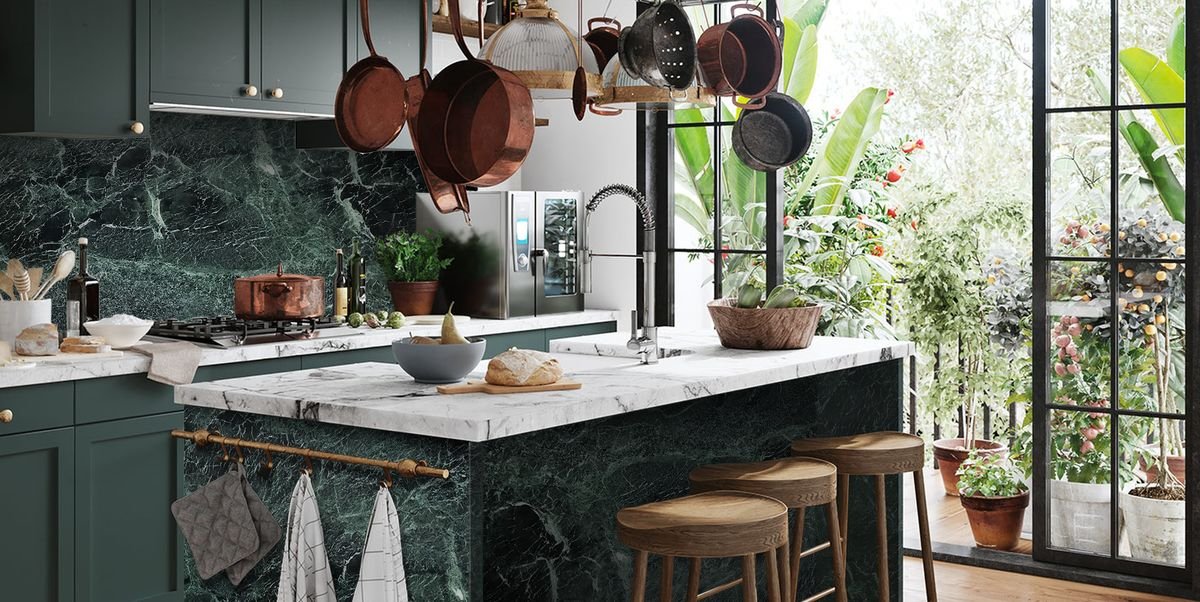 FLOORING ELEVATION DECORATION LANDSCAPING AND COUNTER-TOPS
When you fantasize about your dream home, do you see beauty, a majestic front entrance, and the best spread of marble boundary walls covered with creepers draping all over them? It reminds us of timeless beauty and adds a royal touch to our walls. The exterior walls and the front elevation of your house grant the onlookers an impression of your taste and persona at first look.
Adorn your walls cladding and decoration with subtly colored stone bricks and stone wall mosaics. Do you prefer a fashionable look? Select from our great variety of trendy wall panels tiles and marble wall cladding for exterior decoration and throw in some graceful boundary wall tiles.
At Bhandari Marble World, we provide a comprehensive range of natural stones to choose from, to create the perfect home and office exterior that harmonizes with your dreams and personality.
MANUFACTURERS SUPPLIERS AND EXPORTERS IMPORTED OF INDIAN & IMPORTED GREEN MARBLE
BHANDARI MARBLE WORLD- A Leading Green Marble Supplier & Exporter From India
If you are thinking of reinforcing the beauty and strength of the structures in your home, look no further. Quality Marble Exports (India) is among the biggest, the most trustworthy, and the most diverse marble suppliers in the country. For years we have been mining green marble in our quarries, fabricating it, and exporting it to countries around the world.
GREEN MARBLE AVAILABLE QUALITY WITH QUANTITY
Marble is a kind of limestone and calcite in nature. Green marbles have minerals crystallized in green colors. Therefore, when you need a dark-colored marble, green is an excellent choice of color. Green coloration is often due to serpentine resulting from originally magnesium-rich limestone or dolomite with silica impurities. These various impurities have been mobilized and recrystallized by the intense pressure and heat of the metamorphism.
Since it is a durable, long-lasting material, it is popular for flooring, counters, and even built-in seating. This marble has an impressive artistic quality to it, so it looks good and eye-catching as a kitchen counter top, island, or even dining table. With our industry experience and knowledge, we offer the finest quality Dark Green Marble.
These Green Marbles are immensely popular amongst designers and architects in the construction industry. These marbles promise durability and a perfect finish. There are no Chemical Processing Required. These Dark Green Marbles are a Perfect Choice for the Counter tops in kitchen Bathrooms and flooring.
WRITTEN BY CHAIRMAN MR. DC BHANDARI
ADDED BY EXPERT TEAM OF BHANDARI MARBLE WORLD
WORLD'S TOP & INDIA'S BEST MARBLE GRANITE & NATURAL STONE COMPANY