NEW MARBLE GRANITE AND STONE COLLECTION FROM ALL AROUND THE WORLD
#BHANDARIMARBLEWORLD
Bhandari_Marble_Ebook_compressed-1
Marble is considered to be a luxurious natural stone that never goes out of style. Hence there is huge demand and consumption of both marble slabs and pre-polished ready-to-fix marble tiles in India. There are rich marble deposits in the states of Rajasthan, which account for the huge production of marble in India; the other marble-producing states of India include Gujarat, Andhra Pradesh, and Madhya Pradesh.
https://www.bhandarimarblegroup.com/ebook/
[3d-flip-book mode="fullscreen" id="7749″][/3d-flip-book]
MORE THAN 950 TYPES OF MARBLE STONE
INDIAN MARBLE
Indian marble is available in numerous varieties, vein patterns, and colors, such as white, yellow, beige, green, black, and brown. One can experiment with different types of marble to create designs by combining marble slabs or tiles of different colors, shapes, and patterns.
White Marble
White marble is in high demand because it makes the home look more spacious. The Indian varieties of white marble include Morwad white marble, Indian Statuario marble, opal white marble, white sangemarmar marble, Banswara purple marble, and others.
White marble is used for the flooring, bathroom countertops, walls, and tabletops. White marble is also used for kitchen countertops; however, it should be sealed properly so that the marble becomes resistant to stains.
The starting price for good-quality white marble is around ₹120 per square foot.
Yellow marble
Yellow marble includes varieties such as Ita gold marble, antique rainforest marble, Jaisalmer yellow marble, rainforest gold, and goldio marble, amongst others. Yellow gives a rich and traditional look to the decor. It is used for flooring (as an accent) or the outdoors, as in this example, in bathroom floors, wall cladding, and countertops.
The starting price of yellow marble is ₹70 per square foot.
Brown marble
The popular varieties of brown marble include rainforest brown marble, AmbaJi brown marble, torrento marble, fantasy brown marble, and Agaria brown lehariya marble. Brown marble is the most popular color for bathroom, kitchen, and table countertops because they are comparatively easier to maintain than light-colored marble countertops.
The cost of brown marble starts from ₹40 per square foot.
Beige marble
The beige colors of marble include Katni beige marble and perlato beige marble. Beige marble is primarily used for the flooring of rooms and for bathroom floors and wall tiles.
The starting price of beige marble is around ₹60 per square feet.
Pink marble
The different types of pink marble include Udaipur pink marble, Banswara pink marble, classic pink marble, maharani pink marble, and Katni pink marble. Pink marble is used for bathroom tiles and countertops. It is also used as a flooring material for areas such as bedrooms, bathrooms, lobbies, or corridors. Do note that pink marble can bring too much color into space, hence it should be used selectively.
The starting price of pink marble is around ₹30 per square foot.
Green marble
The popular varieties of green marble include Udaipur green marble, spider green marble (as in this image), rainforest green marble, emerald dark green marble, and Kesariyaji green marble. Green marble looks elegant but since it is a dark color it is used for kitchen and bathroom countertops, staircases, and outdoor lobbies (the common areas of apartment buildings).
The cost of green marble starts from ₹45 per square foot.
Black marble
The various varieties of black marble include grey Carrara marble, Indian black Marquina marble, nadi black marble, and Indian black marble. Black marble never goes out of style. It is used for bathroom and kitchen countertops, tabletops, wall cladding, and the flooring of selected areas.
The cost of black marble starts from ₹60 per square feet.
Makrana marble
The famous Makrana marble is India's finest marble, from the mines of Makrana, a small town in Rajasthan. The iconic Taj Mahal and the famous Dilwara temple are both built of Makrana marble. The marble produced in Makrana includes Makrana white marble, Doongri marble, Kumari marble, Albeta marble, brown Albeta marble, and Makrana pink marble.
The cost of the famous Makrana white marble starts at ₹400 per square foot, as in the year 2019.
ITALIAN MARBLE
When it comes to adding that touch of elegance to home interiors, there's nothing quite like marble. This regal material can instantly amp up the look of any room. But, have you ever wondered which is the better marble between Indian marble and Italian marble? Here, we will give you a comprehensive list of things to keep in mind while choosing marble for your home by comparing these two popular options.
Italian marble is widely appreciated for its high luster and the ability to impart visual appeal to the area where it is used. It is quarried in Italy and is now easily available in India as well. This marble is usually available in slabs.
Italian marble, like the Indian counterpart, comes in a variety of colors and textures, though there are a few varieties that are instantly recognizable such as:
The much-valued Statuario marble which is characterized by its white color shot with grey or gold veins
Golden hued Bottochino marble which seems to be lit from within
Light grey Carrera marble which features dispersed, fine, feathery veining
Nero (black) Marquina and so on.
 Statuario
Statuario is a stone with maximum white color & grey veins. This is one of the most beautiful marble in white color. If you want to give a unique pattern on your floor then Statuario is the option. It adds brightness to your room.
It is available in Random Slabs sizes of 4'0″x 9'0″, 3'6″ x 7'0″, 4'0″ x 8'0″
Statuario Marble is available in 15mm to 18 mm thickness.
Where you can use:
Living Room, Kitchen, Reception, Bedroom, Lobby Area.
Price: Rs. 500/- to Rs. 3000/- per sqft. depends on figure
 Bottochino Classic
The marble Bottochino has a natural beige color with unique brown veins. perfect for outdoor flooring and wall cladding. This marble is quarried in Bottochino town so the name Bottochino comes from the place.
Bottochino Marble is one of the finest and luxurious products.
It is available in Random Slabs sizes of 3'6″ x 7'0″, 4'0″ x 8'0″, 3'0″ x 6'0″
Bottochino Marble is available in 15mm to 18 mm thickness.
Where you can use:
Living Room, Hotel Lobby, Lounges, Counter-tops, Bathrooms
Price: Rs. 380/- to Rs. 425/- per sqft
Grey William
Grey William is marble with full grey & whitish veins, which is imported from Italy and Turkey.
It is available in Random Slabs sizes of 3'6″ x 7'0″, 4'0″ x 8'0″
Grey Williams Marble is available in 15mm to 18 mm thickness.
Where you can use:
The Grey Williams Marble slabs are looking cozy in Living Room, Lobby Area, Bathroom, Wall Cladding.
Price: Italy Imported – 450/- per sqft
Turkey Imported – Rs. 325/- Per sqft
Royal Diana
Royal Diana is beige color marble with a thin & thick brown veins pattern. This is one of the most popular Italian marble floorings in India.
This pattern is also available in tile form with a size of 800mm x 1200mm by Kajaria with the name of Royal Dyna
It is available in Random Slabs sizes of 3'6″ x 7'0″, 4'0″ x 8'0″, 3'0″ x 6'0″
Royal Diana Marble is available in 15mm to 18 mm thickness.
Where you can use:
Living room, Bathroom, Bedroom, Entrance area.
Price: Rs. 275/- per sqft.
Rosso Verona
The Rosso Verona marble is a red stone with unique brown veins. This rock is perfect for indoor flooring. Rosso Verona is an Italian Marble with red color, which is imported from Italy and also called Verona Red Marble.
It is available in Random Slabs size of 3'6″ x 7'0″, 4'0″ x 8'0″
Rosso Verona Marble is available in 15mm to 18 mm thickness.
Where you can use:
The Rosso Verona marble slabs are looks elegant in Bathroom, Lift Area, Reception Area, Wall Cladding
HOW TO MAINTAIN INDIAN & ITALIAN MARBLE
Here are some tips that will go a long way in keeping your marble look as good as new:
Sweep regularly to keep away dust and grit
Clean with a mild detergent solution or a specially formulated marble-cleaning liquid
Rub or mop the floors gently; never scrub
Apply a marble sealer to create a protective barrier to prevent staining
Do not drag heavy objects over it
Mop up spills, especially acidic liquids like vinegar
Both Indian marble and Italian marble loses luster over time, hence you should get them polished periodically
GRANITE
Granite has remained a popular countertop choice for kitchens and bathrooms since the 1980s when designer Deborah Sussman renovated a kitchen with Kitchen Countertops. This natural stone outshines marble when it comes to durability. It's hardy, solid, and less porous. Did we mention it's not nearly as prone to stains and etching? Granite is low maintenance and easy to clean, making it suitable for spaces like busy communal kitchens and bathrooms.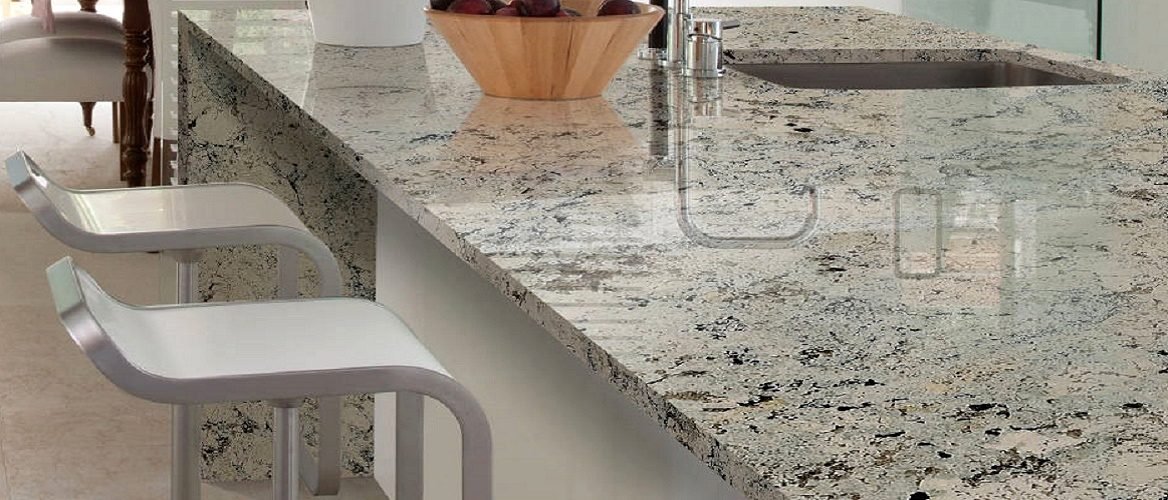 Presenting……
……. The most popular granite colors in 2020 continue to dominate 2021 design trends; white granite countertops and neutral finishes or warm wooden cupboards, and black granite kitchen countertops complimented by gold fittings for the bold. Currently, there are three major stand-out trends that are adaptable to most tastes.
White Granite
White granite kitchen countertops embody refinement and elegance. Color-wise they offer the most compatibility and look stylish on top of almost any kitchen cupboard color. While it's impossible to purchase "pure" white slabs, their flecks and irregular markings add to their unique character. They come in various shades, making it easy to find a stone that suits your design preferences.
Colonial White
Alaska White
P White
S White
C White
Black Granite
Black provides a bold and dramatic touch to any kitchen. Granite countertops with flecks of gold or white veins are genuinely eye-catching in comparison to classic, all-white countertops. From dark Nordic Black granite to glittering Black Galaxy granite that mimics gazing up at the stars, here are our most popular granite countertops in black.
R Black
Black Galaxy
Desert Brown
Z Black
Telephonic Black
Blue Granite
Blue granite kitchen countertops provide a sense of calm in exterior spaces. Often compared to the ocean, their swirling patterns evoke dynamic movement on kitchen surfaces and add tranquility to bathrooms. Their color intensity and patterns range from deeply saturated blues and strong veins to lighter and more muted tones, depending on what look you're after.
Imperial Blue
Vizag Blue
Lavender Blue
Blue Pearl
Amazonite Granite
Gold Granite
Statement gold home accessories and accents remain trendy this season. Gold granite colors complement both white and moodier kitchens, especially those kitchen cupboards of the black and dark green variety. Gold granite is a top choice for those who like warmer tones like cream, yellow, brown, and ocher hues remain consistent in most gold granite colors.
Kashmir Gold
Shiva Gold
Alaska Gold
Picasso Granite
Imperial Gold
Added by Expert Team of Bhandari Marble World +91-9784593721