Granite Counter top Review: Pros
People have used granite for thousands of years. It is used as a construction material, a dimension stone, an architectural stone, a decorative stone, and it has also been used to manufacture a wide variety of products.
Granite is used in buildings, bridges, paving, monuments, and many other exterior projects. Indoors, polished granite slabs and tiles are used in countertops, tile floors, stair treads and many other design elements. Granite is a prestige material, used in projects to produce impressions of elegance and quality. Some interesting and common uses of granite are shown in the photo collection below.
Are Granite Counter tops Right for You?
Granite is a light-coloured igneous rock with grains large enough to be visible with the unaided eye. It forms from the slow crystallization of magma below Earth's surface. Granite is composed mainly of quartz and feldspar with minor amounts of mica, amphibious, and other minerals. This mineral composition usually gives granite a red, pink, gray, or white color with dark mineral grains visible throughout the rock. Granite is the best-known igneous rock.
Many people recognize granite because it is the most common igneous rock found at Earth's surface and because granite is used to make many objects that they encounter in daily life. These include countertops, floor tiles, paving stone, curbing, stair treads, building veneer, and cemetery monuments. Granite is used all around us – especially if you live in a large modern city.
IN THIS ARTICLE
Recognizing Granite
Types of Granite Counter tops
Granite Counter top Cost
Maintenance and Repair
Design
Granite Counter top Installation
Top Brands of Granite Counter tops in India
Granite vs. Engineered Stone (Quartz) Counter tops
Recognizing Granite
Many people are familiar with granite because it is the most common igneous rock found on Earth's surface and is used to make many objects that they encounter in their day-to-day life. It is used to make countertops, floor tiles, paving stone, curbing, stair treads, building veneer, and cemetery monuments.
Granite is endowed with all the desirable properties required to use it as a dimension stone. Both the ancient world and the modern one bear evidence of the importance of granite as a building material. Today, Granite is commonly used in the making of roads, pavements, monuments, public buildings and bridges.
Types of Granite Counter tops
White Granite Counter tops
Unlike quartz, white granites are not smooth and plain white for they contain veins of other colors and some parts of a darker tone. For this type, it mainly consists of white feldspar and creamy white quartz. Looking at its design and color, you would seem how artistic nature is. Likewise, you would also see small flecks of black or dark green veins.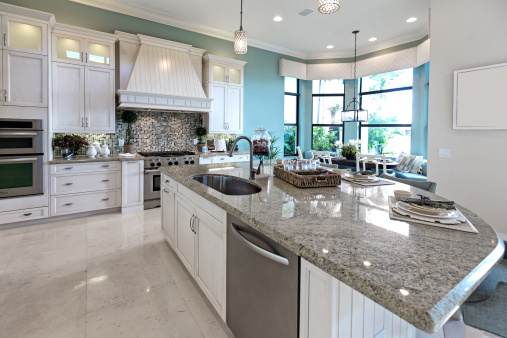 Black Granite Counter tops
Black granites with flecks and sparkles of white, yellow, and blue seem to be like a dark sky with stars in the night. It can perfectly give you a classic or modern atmosphere for your home or offices. It provides an excellent and outstanding contrast with other light colors in your kitchen and bathroom. It exhibits solid contrasting appearance for home remodeling.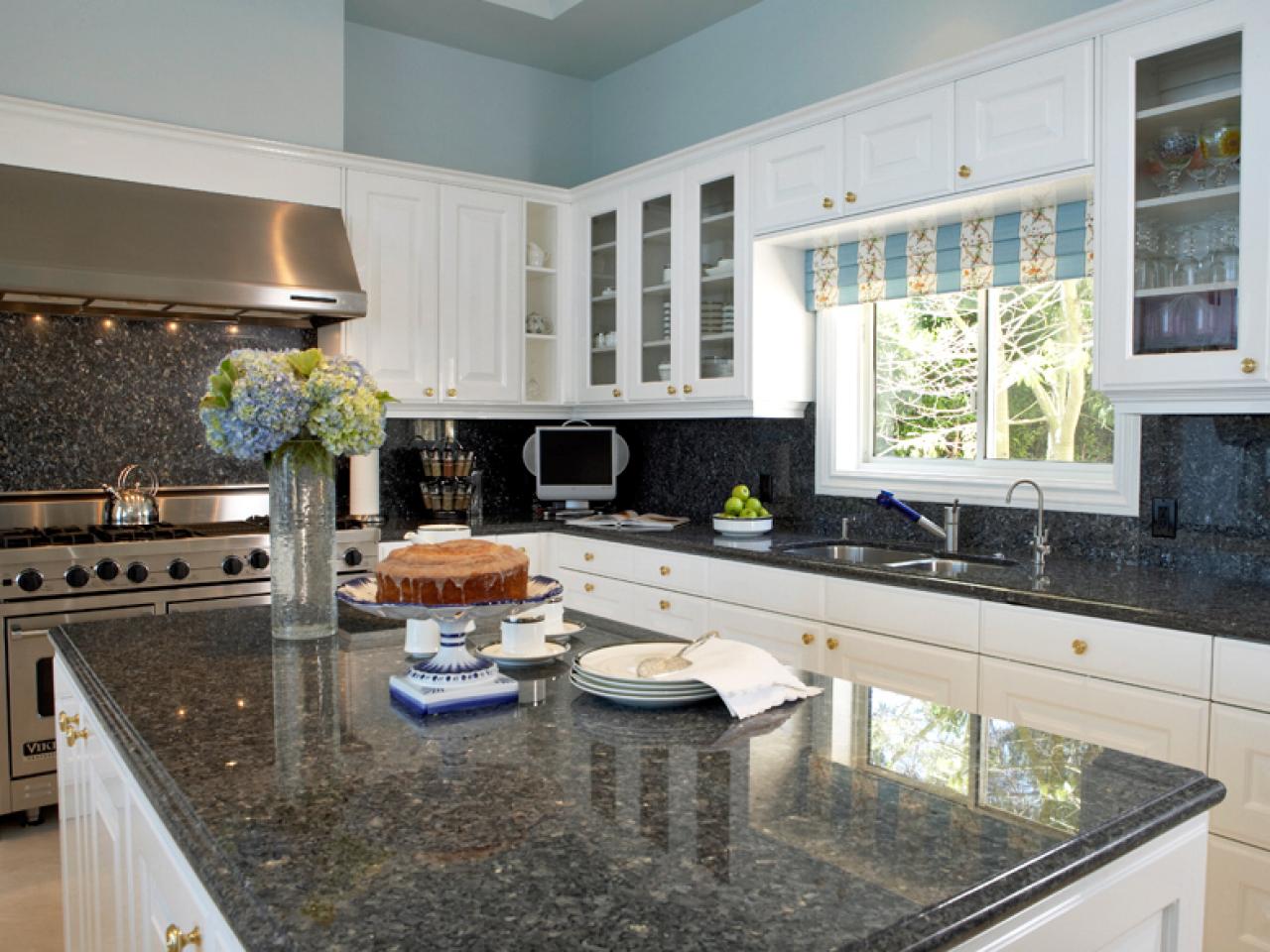 Brown and Gold Granite Counter tops
Common examples of this type include New Venetian Gold, Tan Brown, and Baltic Brown. If you want the earthy feel of wood but want something more durable, then having a brown granite is the best solution. If you have dark wood furniture, then it would best compliment with tan brown granite. Meanwhile, for lighter wood furniture, a rich dark brown granite would best serve as best contrast. The combination of gold and brown tone will give you that amazing rustic appearance on your kitchen and bathroom renovations. The overall atmosphere of this type is earthy, warm, and rustic.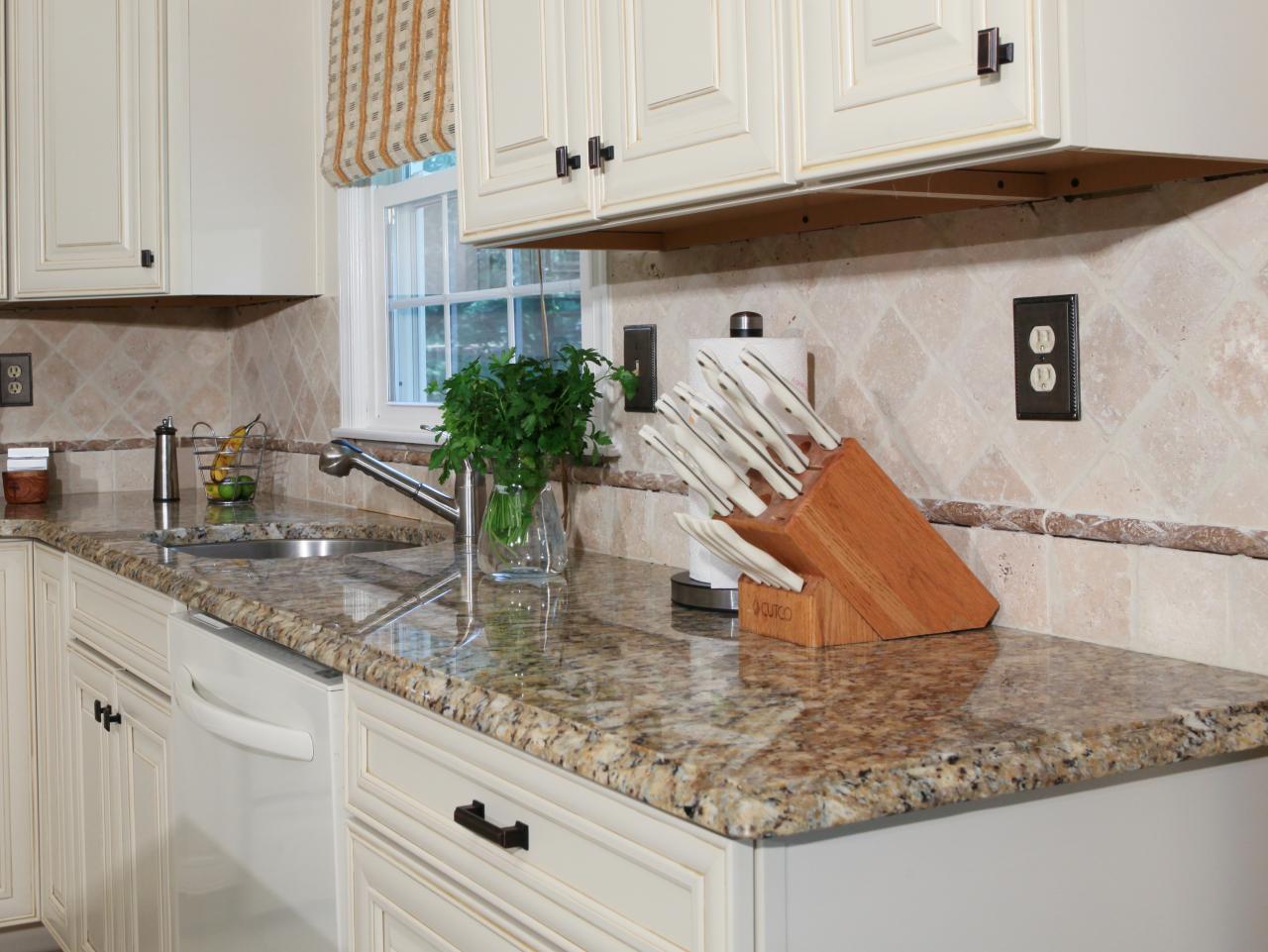 Gray Granite Counter tops
Its background is mostly gray with several fine grains of black, gold, and silver specks around the surface. This type is mostly used to elevate modern looks for the interiors of homes and offices. Similar to brown and gold, it also provides a warm and homey ambiance to ease daily stress from work.
Cost for Granite Counter tops
The cost of Indian granite starts at ₹55 per square foot while Italian granite is around ₹450 per square foot. The cost of installation of a granite counter top starts at ₹500 per square foot, which includes the cost of materials, labor and cutting charges.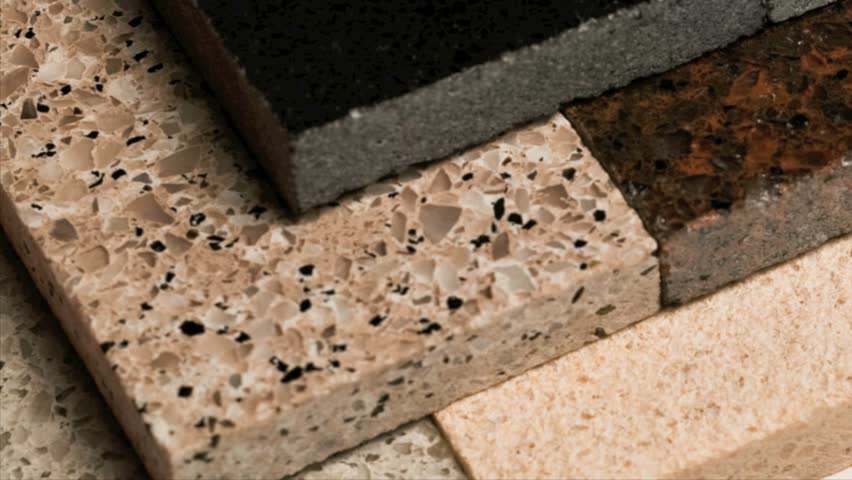 Maintenance & Repair
To keep granite countertops clean, use a microfiber cloth to dust off the surface. Often a microfiber cleaning cloth, even a dry one, is all that is needed for basic cleaning. For times when spills or daily life happen, try to wipe down the granite counter top daily or as needed using only water.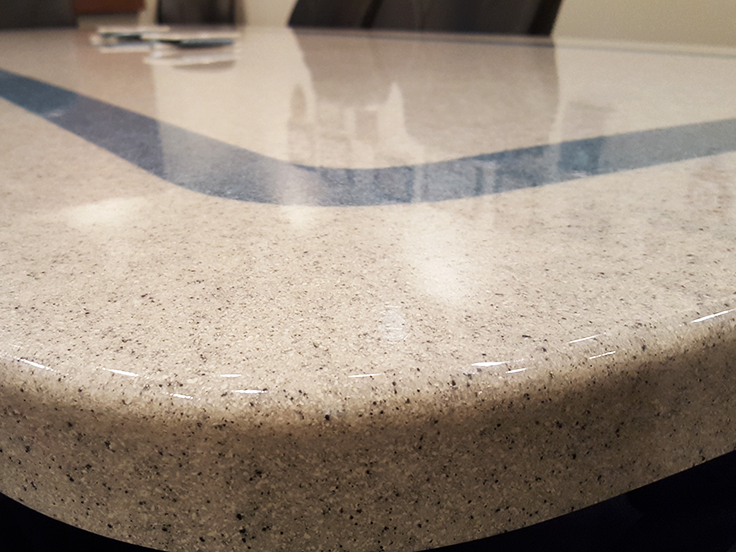 You may be able to repair scratches and small "dings" in your granite counters by filling them with color-matching epoxy or resin that can be purchased at a home improvement store or kitchen remodeling business. After you apply the epoxy or resin, you should allow it to dry and then sand and reseal the counter area.
Designs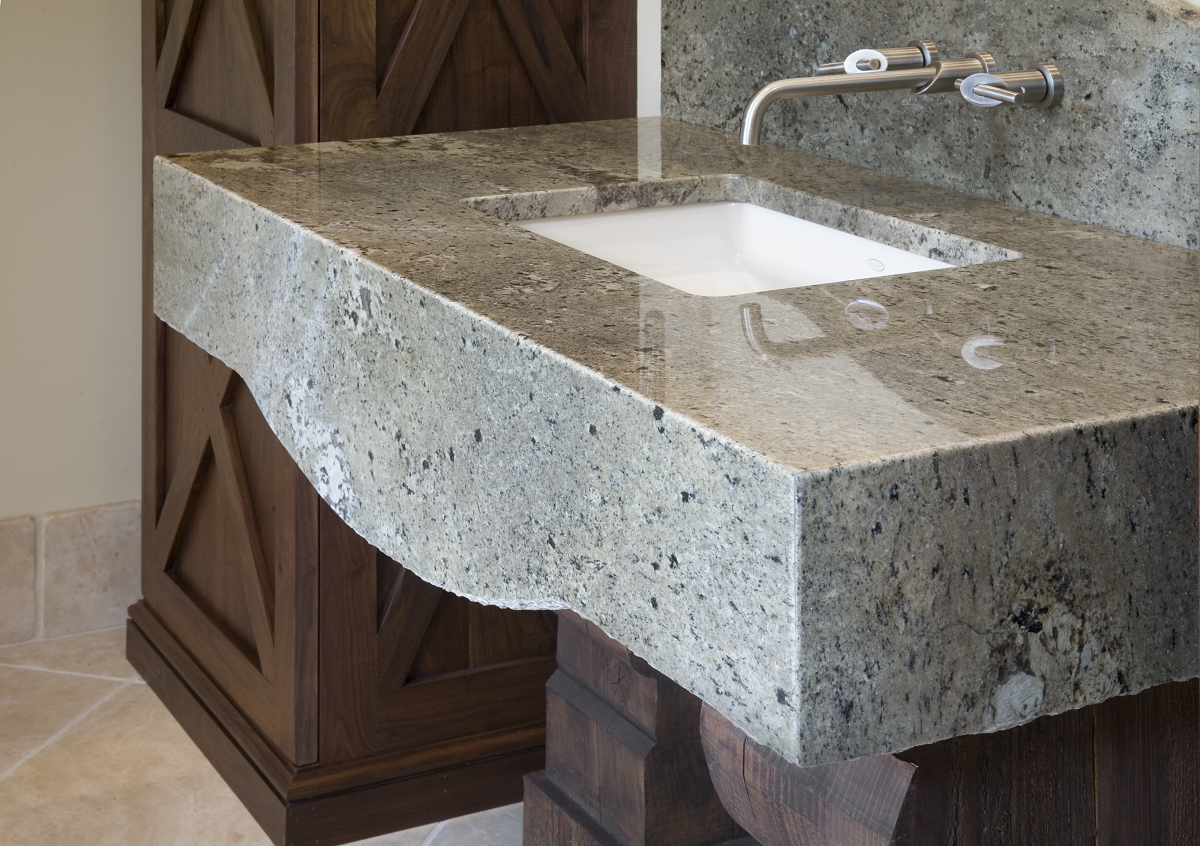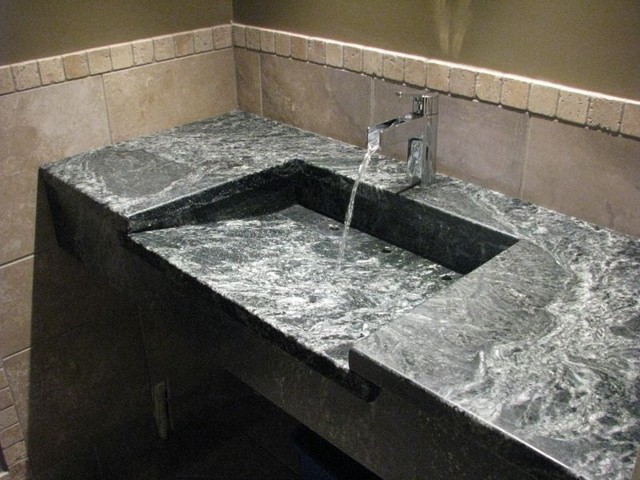 Top Brands of Granite Counter tops in India
Bhandari Marble World is the top brand who gives you best quality granite countertops in reasonable price range. For any quote you can mail us or call us at below given details.
Granite vs. Engineered Stone (Quartz) Counter tops
What is Granite?
Granite is a very hard stone and 100 percent natural. It's mined from quarries all around the world, cut down to a manageable size, and then polished to a fine finish.
What is Quartz?
Quartz is slightly different in that it is not 100 percent natural. Instead, countertops are manufactured using 95 percent ground natural quartz and 5 percent polymer resins.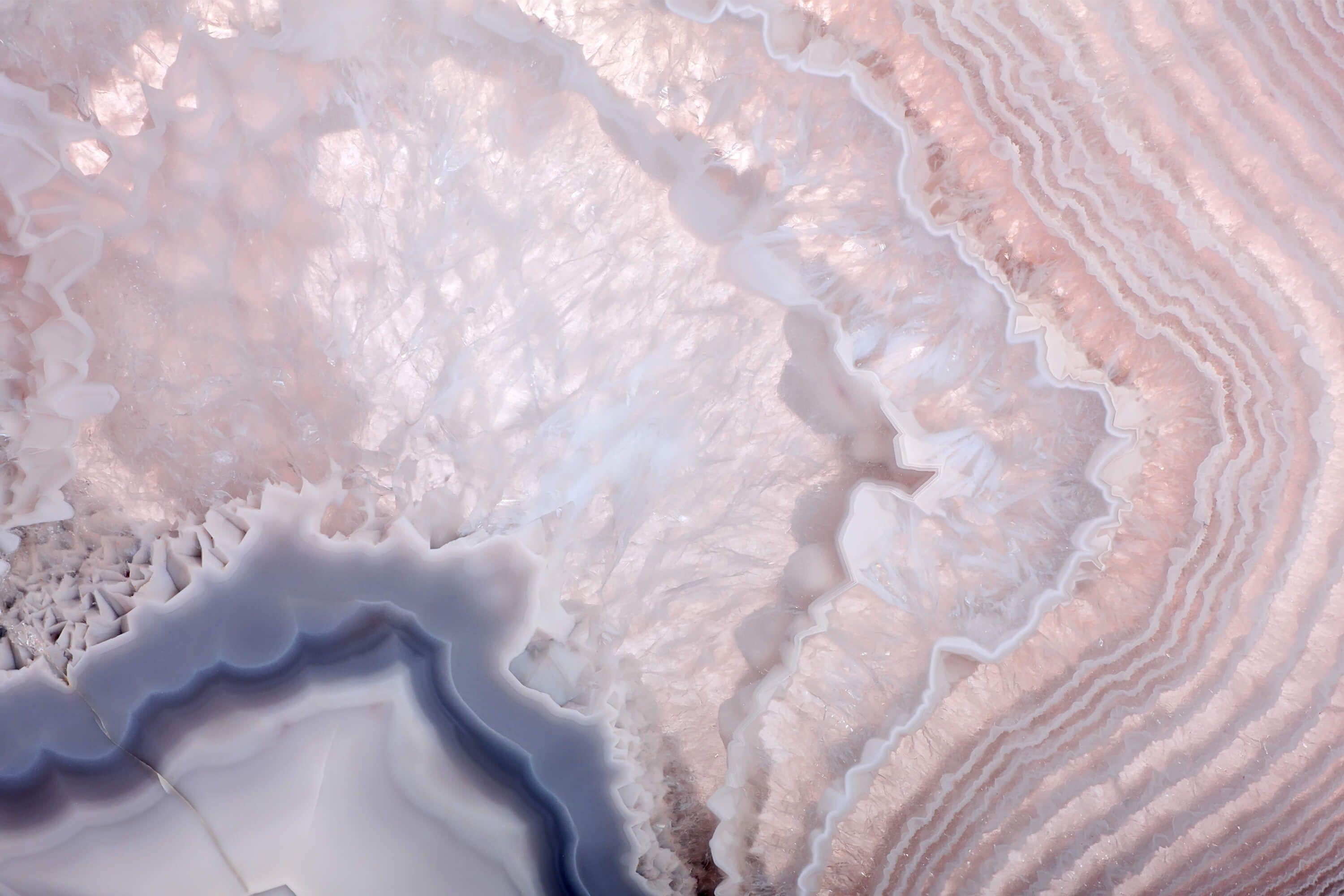 Appearance
Whether you're looking for a subtle complement to your kitchen or a standout slab with unique mineral inclusions, there is an almost limitless selection to choose from and no two granite countertops are the same. One of the main reasons quartz's has exploded in popularity is due to appearance. Quartz has the look of stone while also allowing homeowners to customize the design.
Environment Friendly
The only way granite ends up in your kitchen is if it's quarried and that uses a lot of energy. If you opt for a high-end slab from Italy, for example, there will be considerable transportation involved. Quartz is engineered, it can be more environmentally-friendly than granite if you use regionally manufactured stone and local fabricators.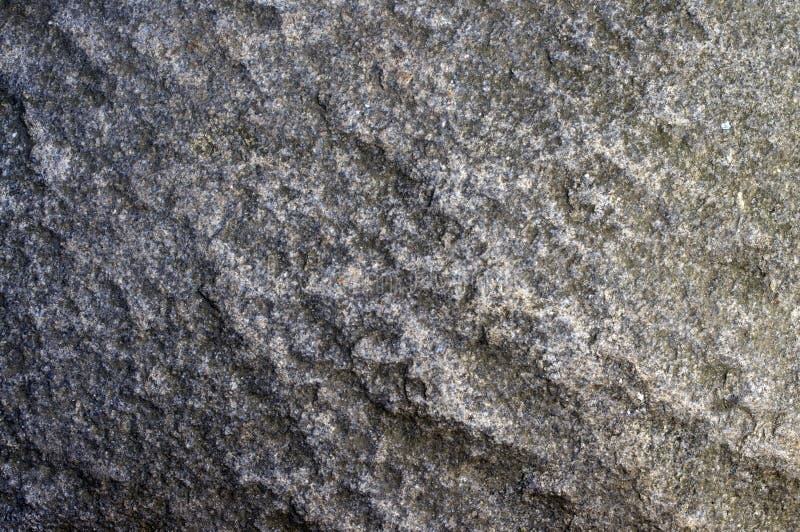 Maintenance & Durability
Granite countertops should be cleaned daily with soap and water or a mild household cleaner. Some oils and acids can stain so do your homework first to avoid stains. Due to its porous nature though, there can be some staining if spilled liquids are left sitting and damage can be done if your counter receives a high impact blow. Quartz is actually harder than granite and thus, more durable. In fact, quartz is nearly indestructible, and because it isn't porous like granite, it's easy to keep your countertops relatively bacteria-free. Like granite, you'll want to clean any spills on quartz countertops with soap and water or a household cleaner, but that's about it in terms of maintenance.
World's Top & India's Best Marble Granite & Natural Stone Company…!!!
For more can contact us: +91-98290-40013
Added By D.C. Bhandari
Updated on 28 January 2022