MARBLE MANDIR
For so many decades, Indian Homes have had their places of worship where they meditate to purify their souls from all kinds of impurities so that we can have our minds clear of clutter and find some peace in our lives.
The Marble Mandir in our houses fill us with positivity and peace, and the Marble Mandir are among the common ones you'll find not just in homes, but also in hospitals, cafes, restaurants, offices, colleges, and many other places.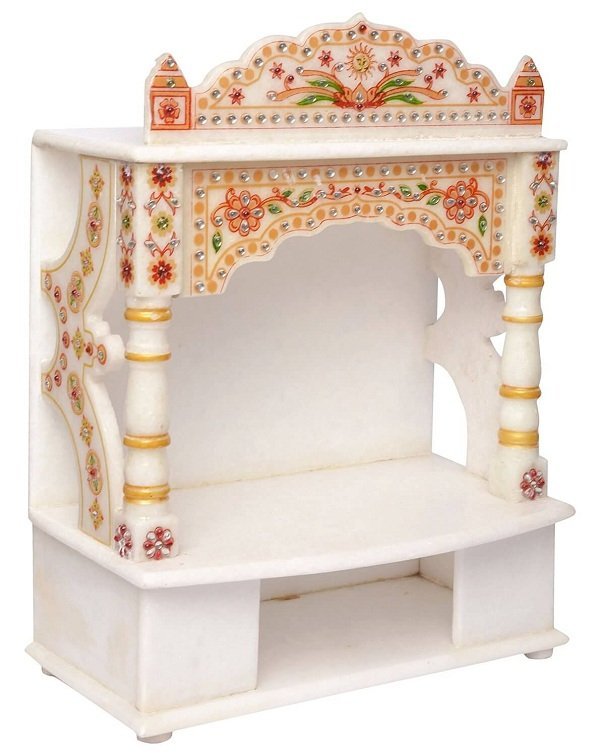 If possible, the Marble Mandir should be made from wood. A  Marble Mandir is thought to be more auspicious and regarded as more religious-based on Vaastu Shastra. It is important to examine various religious beliefs and ideas associated with the marble mandir to gain a better understanding of it.
Marble Mandir Ideas for Home: Appropriate Height of the Marble Mandir
The size of a Marble Mandir is up to you, but there are a few things you should keep in mind when buying one.
A Marble Mandir should be placed at a height suitable for the seating arrangements. The height should be at least as high as the chest of a person standing or sitting before it. In this ritual, Pooja Idols are to be placed in front of the worshipper.
MARBLE TEMPLE
In every Hindu family, the temple is considered to be the most significant element. Indian homes mark a special area in which to offer prayer to God, the prayer room, which is a sacred space to perform Pooja. This is the place where people retreat when their minds are unsubtle, distracted, or stressed. It is believed that Indian mandirs have some sort of auspicious positive energy. When an individual sits in front of the deities of a marble temple and performs prayers in front of them, he or she experiences positive effects and peace of mind.
How to decorate a Marble Temple 
Make it seem like positive energy is coming out of the idols by placing LED lights at the back.
Put curtains on both front doors.
Prepare the pooja thali for the front.
Fresh flowers can be used to decorate it.
Cover the surface with designer paper.
Make your mandir more beautiful by using perfume sticks.
Light Kuber Diya in front of deities.
Place some Holy books in the mandir.
Put on beautiful clothes and jewelry for the deities.
MARBLE STATUES
Marble statues always look stunning and enhance the beauty of the space where it is placed. The brilliant work done on white marble augments the statue's look and gives your space the desired uplift in an instant. Nowadays, marble statues have become the most popular choice when we want to bring beautiful sculptures home. These days, the marketplace is flooded with amazing deals offered by trusted marble Statue manufacturers.
A Guide to the Marble God Statue Manufacturing Process
SELECTION PROCESS OF RAW MATERIAL
PREPARATION PROCESS
CARVING THE STATUES
POLISHING OF THE STATUE
PAINTING WORK
QUALITY TESTING AND PACKAGING
EASY TRANSPORTATION
Nowadays, manufacturers of marble statues use different techniques to make unique sculptures. The process, as mentioned above, is the most common and preferred option that usually manufacturers look for. Bhandari Marble Group stands for owning the most dependable and effective marble statue manufacturing process among the leading professionals. The process of manufacturing that Bhandari Marble Group uses seems quite beneficial. This is why it is renowned as the most reliable statue manufacturer.
WORLD'S TOP AND INDIA'S BEST MARBLE. GRANITE AND STONE COMPANY
ADD BY EXPERT AND EXPORT TEAM OF BHANDARI MARBLE GROUP. CONTACT US ON: +919829040013.