INLAY WORK, RANGOLI AND MOSAIC TILES
INLAY WORK
Inlay Work  is a form of decoration that belongs to ancient civilization. In this form of decorative art, various pieces of material or stones of different shapes, sizes and designs are being carved in the base surface. The base surface can be in the form of marble. Inlay work is generally to be seen in the designs of floral motifs, plants, and creative natural patterns. Inlay Work is an art that takes a lot of patience and artistry. As a result, you get a very picturesque and dazzling form of decorative that one can't take his eyes off.
Inlay Work, The Essence of Ancient Times.
Inheriting a sturdy Inlay influence and originating from the Mughal grounds, This work has imprinted an artistic remark. Marble Inlay work attaches a strong string from ancient times. It is often marked as a synonym of royalty and dignity which used to be an imperative lifestyle of majesty kings.
Indian history has witnessed the era of dignified structures and graceful architectures. Aesthetic essence is the pillar of ancient timed India. Inlay art was a progressive essence during the sixteenth to the seventeenth century.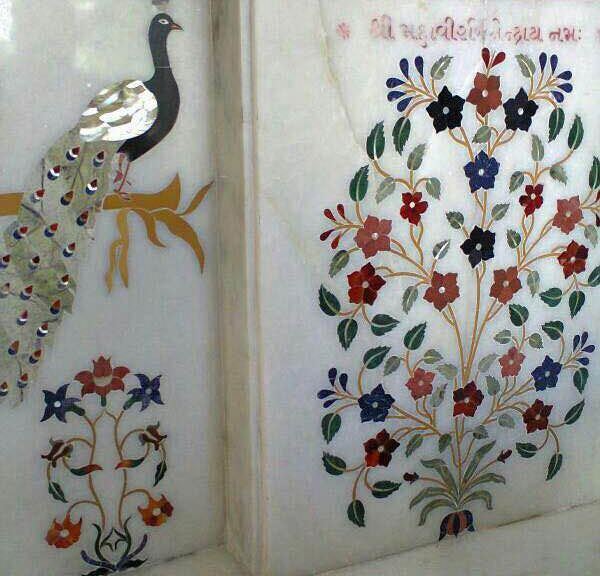 MARBLE RANGOLI
Marble Rangoli design in India that has one side emblem  whereas rangoli that have eight auspicious emblems  is the name given to the pattern which has emblems drawn on all sides. In this type of rangoli design, small squares make a big square and small squares  in different sizes, patterns, color and designs.
Marble Rangoli is one of the most popular and traditional art forms in India. It is a form of sand painting decoration that uses finely ground white powder and colors. Marble Rangoli can be a wall art as well as a floor art. The designs or patterns of Marble Rangoli are usually taken from nature such as peacock, swans, flowers, etc. Marble Rangoli holds a special place in the Indian cultures and often treated as the painting for the God. Traditionally, colors of Marble Rangoli were derived from natural dyes but now a days, synthetic dyes are used in range of bright colors. Marble Rangoli can also be made from cereals, pulses or a more extensively used material and a specially recognized form is that of floral Rangoli's.
Bhandari Marble Group engaged in designing and supplying the best quality of Marble Rangoli, which is designed using the superior quality of raw materials. We present our products in different colors and shades and their cost also depend on that. The designs of marble rangoli are designed by our designers who always think different ideas to satisfy the needs of our clients. Before, we supplying these products we investigate them properly so that our clients will be satisfied with our products.
MOSAIC TILES
Marble Mosaic tiles are small pieces of tiles that are mounted onto a mesh backing to make a larger tile. They create a stunning effect when installed on different surfaces and are a superb way of upgrading the look of your home. From marble mosaic floor tiles to marble mosaic wall tiles there are umpteen number of options available that are enough to make you fall in love with this concept. If you are looking at revamping your room then stray away from regular marble tiles.
FEATURES OF MARBLE MOSAIC TILES
DURABLE
RESISTANT TO MOULD
EASY TO MAINTAIN
ELEGANT PATTERNS
AVAILABLE IN DIFFERENT MATERIALS
WORLD'S TOP AND INDIA'S BEST MARBLE, GRANITE AND STONE COMPANY
ADD BY EXPERT AND EXPORT TEAM OF BHANDARI MARBLE GROUP. CONTACT US ON: +919829040013.